A 'realistic' reading of Jesus's parables
Knox College Principal Ernest van Eck's research has focused on a 'realistic' reading of Jesus's parables. Dr. van Eck explains:
There are many ways to read the parables. The most common way is to read them in their contexts in the Gospels. If you think of a movie, for example, you know that which happens before and after a scene gives meaning to that particular scene. The same thing is true with the parables in the Gospels. For example, let's take the parable of the friend at midnight in Luke 11. Just before that parable, the disciples ask Jesus to teach them to pray. Just after the parable, Jesus says, "Ask and it will be given to you, seek and you will find," etc. In this way of reading, the context is clear that the parable is about prayer.
Another way to read that parable is to take it out of the context of that chapter and put it in the context of first century village life. If you see it as a real story about real people, then you think about things like the way the bread was baked and the way the society worked. Then that parable gets a totally new meaning. Then the parables are not stories about God; in most cases God or Jesus isn't a character in them. Instead, those parables become stories about God's kingdom, symbols of transformation; the parable is supposed to transform your spirituality, your understanding of God and Jesus. This is my interest.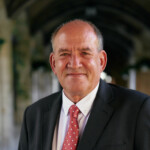 Some call it a "realistic" reading of the parables because we're reading the parables as real stories. When Jesus told those parables, he was speaking in a rural area to the peasants who were exploited by Romans. But a gospel like Luke is written to people in a city. Jesus spoke the parable in a different time and context than the Gospel writer was later writing. The Gospel writers therefore edited things to make sense of the parables in a new situation.
This approach helps me to identify social values that I believe are applicable in any society, including in a secularized society like ours.
Learn more about Dr. van Eck's work here.