William Sturgess passes away; Knox College expresses condolences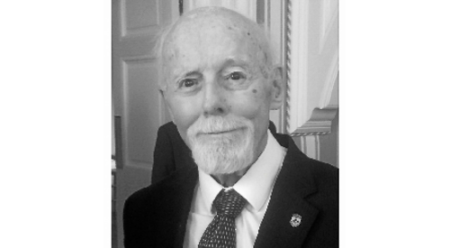 The Rev. Dr. William Sturgess passed away on February 23, 2023. He was a 1969 Knox College Master of Divinity graduate.
The following obituary appears on the Ottawa Citizen website:
STURGESS, Reverend Doctor William Alcock
1925 – 2023
We celebrate a life well-lived and peaceful passing of William Sturgess (formerly of Toronto) after a brief hospitalization. Beloved husband of Mary (Simmonds) Sturgess who passed in 2020, and loving father of Carol (Paul) Seiler of Seattle, Gwen (Peter) Cullen of Kanata and Barbara (Richard) Bergstrom of Edmonton.
William (Bill) was one of the last living Canadian Veterans of WWII and visited the beaches of Normandy on his 90th birthday. From 1952 -1956, he served with Canadian Baptist Missions in Bolivia. For the next 50 years he served at Spring Garden and Agincourt Baptist churches (Toronto), Broadway First Baptist (Winnipeg), and retired as Minister of Pastoral Care at Yorkminster Park Baptist (Toronto) in 1997. His Doctor of Divinity was from McMaster University, and undergraduate work was at University of Toronto.
He was proud of his 6 grandchildren Sean (Edmonton), Trevor (Kanata), Stephanie (Pasadena), Naomi (Seattle), Ryan (Vancouver) and Hilary (Edmonton), and 14 great-grandchildren. He outlived his younger siblings Roy (Sturgess), John (Sturgess) and Isobel (Anderson).
William loved the outdoors, and curled weekly until just over 90, changing then to lawn/carpet bowling. An avid reader, he volunteered with Friends of the Library (U of T) after retirement. The move to Kanata helped with family caregiving, specifically with his beloved Mary. He also volunteered at the Kanata Community Theatre as an usher and prompter. In the last 18 months he moved to a retirement community and the family is grateful for Hazeldean Gardens where he found a new community until his hospitalization in early February.
A visitation will be held at Kelly Funeral Home, 580 Eagleson Rd, Kanata, on Sunday, March 19 from 1 p.m. until 4:30 p.m. At approximately 4 p.m., a brief devotional and prayer time will be led by the Pastor of First Baptist Church Ottawa, William's home church.
In lieu of flowers, memorial donations to the following Charities would be gratefully accepted: Canadian Baptist Ministries; The Canadian Cancer Society; The Dementia Society of Ottawa & Renfrew County [in honour of his wife] or The Kanata Little Theatre.
Sharing memories and online condolences can be made at www.arbormemorial.ca/en/kelly-kanata.