Knox Community celebrates John Vissers' five years as Principal
Watch the recording of the Service of Thanksgiving and Recognition below.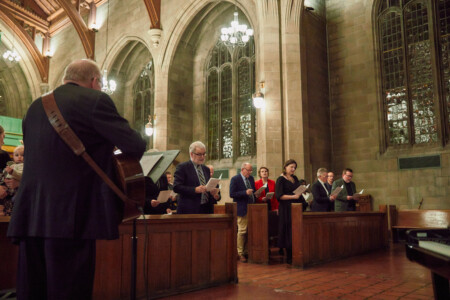 The Knox College community gathered in person and online on October 20, 2022, for a special Service of Thanksgiving and Recognition, hosted by the Knox College Board of Governors. This service celebrated the Rev. Dr. John A. Vissers' five years of faithful and exemplary service as Principal of Knox College.
The event included prayer, scripture readings, music, and words of gratitude from Knox College's board, faculty, staff, students, and Principal Emerita, as well as from The Presbyterian Church in Canada, the Toronto School of Theology, family, and friends.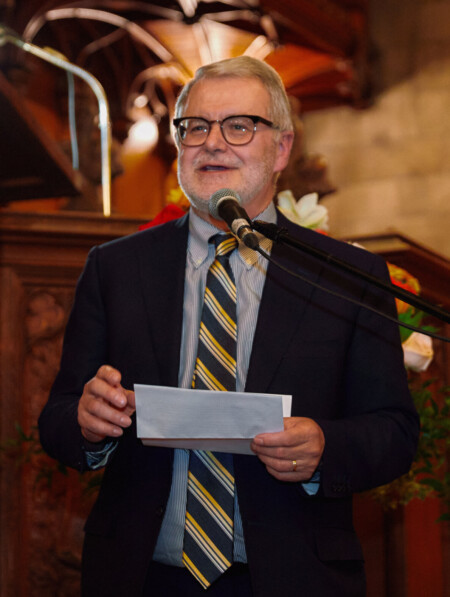 Professor Charles Fensham wrote, "Prayer, worship, and deep devotion to God are integral to John's life. Through his integrity and spirituality he enriched faculty, students, and staff. John excels as an inspirational leader. He shows deep respect for the people he works with, and he makes sure to consult and listen carefully, even if he still has to make the hard calls required of a leader in such circumstances. No one is left uncared for. . . . Thank you, John, for your service of faithful love."
Mr. Randal Phillips, Convenor of the Knox College Board of Governors, noted, "In addition to providing strong day-to-day leadership, John always kept a clear focus on building Knox's capabilities for the future. . . . He wasn't afraid to tackle difficult issues. . . . He secured our future and allowed us to focus on our mission of delivering ongoing theological education for our church with excellence." Phillips continued, "He's a deep thinker, and in many ways models the kind of servant leadership that Knox is seeking to develop in its own students for the future."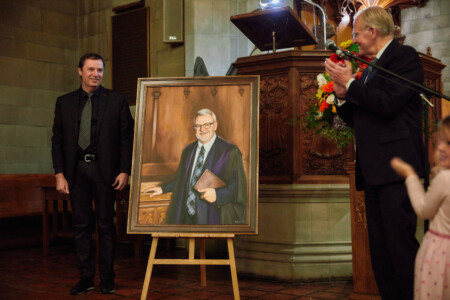 The Rev. Dr. Clyde Ervine said, "John is a respected theological teacher and a respectful college principal because of a commitment located at his very core. . . . It's the lordship of Christ over creation, the lordship of Christ over the church, and the lordship of Christ over his own life that have kept John steady amid the clamour of voices that have crowded around him, not least here as principal of the College. It's not easy in our day to hold to that core commitment. Other commitments, many of them most worthy, can easily crowd Christ out of our lives."
Artist Sergey Malina unveiled his portrait of Dr. Vissers, which will hang in Caven Library along with the portraits of Vissers' predecessors.
Dr. Vissers now continues as Professor of Historical Theology at Knox College. Dr. Ernest van Eck succeeded Dr. Vissers as principal in September.
Watch the recording of the service below. View a photo gallery on Knox's Facebook page.
Photos by Jason Shum Photography.