New Principal approved for Knox College
Knox College is pleased to announce that the appointment of Ernest van Eck as the next Principal was approved by the 147th General Assembly of The Presbyterian Church in Canada on June 6, 2022. Congratulations and welcome, Dr. van Eck! We hope that Dr. van Eck will be approved to immigrate to Canada around the start of September, in time for our Fall Term. Dr. Vissers will assist with the smooth transition of the principal role before returning to full-time work as our Professor of Historical Theology.
The Board of Governors is pleased to announce the appointment of Dr. Ernest van Eck to be the new Principal of Knox College. Dr. van Eck is an ordained minister, an academic administrator, and a teacher and researcher in theology, and we are looking forward to his leadership at Knox.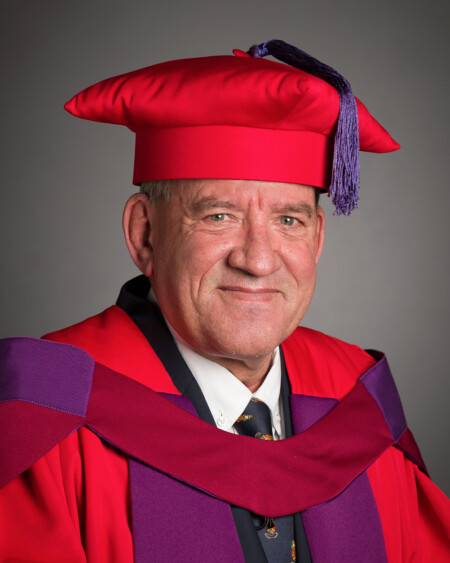 His appointment follows an extensive search for candidates within The Presbyterian Church in Canada (PCC) and outside it. The selection process was led by a diverse Search Committee with members drawn from our Board of Governors, faculty, staff, students, alumni, the Assembly Council of the PCC, the Toronto School of Theology, and the University of Toronto. At the conclusion of the process, Dr. van Eck was the unanimous choice of our Search Committee and our Board of Governors to be our new Principal.
As Dr. John Vissers comes to the end of his term as our Principal, he leaves Knox College well-positioned for the future. We have a growing student enrolment and a bold strategic plan for the years ahead. We are confident that Dr. van Eck has the credentials and experience to lead Knox on the next stage of its journey. Here is a summary of his background:
Dr. van Eck is an experienced academic administrator. He currently holds dual roles within the Faculty of Religion at the University of Pretoria as Deputy Dean for Research and Postgraduate Studies, and Head of Department for New Testament and Related Literature. His Faculty is the largest of its kind in South Africa, with 780 undergraduate and postgraduate students. He has extensive experience in curriculum development, having implemented two major new curricula in the Faculty and a hybrid model of teaching and learning.
Dr. van Eck has a strong reputation for leadership in teaching, research, and publications. He helped steer his Faculty to top-10 rankings in citations per paper, placing it ahead of many well-known institutions around the world. He has supervised or co-supervised almost 100 postgraduate students over the years, and he is highly regarded for his own teaching, research, and publications. His resume includes 50 publications in peer-reviewed or refereed journals and over 100 co-authored papers, study guides, books, chapters in books, and conference presentations. He has won Lecturer of the Year or Excellence in Teaching Awards in four of the last ten years.
Dr. van Eck has an extensive network of relationships with other theological schools. He has been a guest professor or lecturer at six other universities, including a sabbatical at the University of Toronto in 2014. He has a wide range of research associates in developed countries and the global south (in Ghana, India, Kenya, Nigeria, South Africa, and Zimbabwe).
Importantly, Dr. van Eck has maintained a strong, lifelong connection to the church. He was the Minister to two congregations for the first 21 years of his career, before becoming more involved in academic life. He continues to serve the church in a number of national committees and as an ordained minister. Dr. van Eck has now applied for admission as an Ordained Minister of The Presbyterian Church in Canada.
During his presentation to our Search Committee, Dr. van Eck concluded by saying: "We are living in a moment that demands faithful Christian witness and prophetic leadership in theological education." In these challenging times, this call to action is needed, now more than ever.
Please join me in congratulating Dr. van Eck on his appointment to be our Principal and leader for the future, and in thanking Dr. Vissers for his outstanding leadership over the past five years.
Sincerely yours,
Randal Phillips
Convener, Board of Governors
Knox College