Tamiko Corbett passes away; Knox College expresses condolences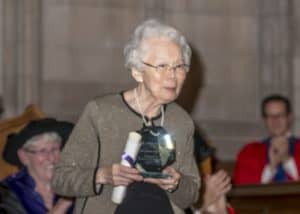 Tam Corbett was born in Vancouver to Japanese parents. Her own experience of racism during the second World War led Tam to express a lifelong concern for victims of racism, racial violence, and unjust government policies. After graduating from Normal School (Teacher's College), Tam became the first person of Japanese origin to be employed by the Vancouver School Board. There she met a colleague, Barbara Corbett, whose family opened their hearts and home to her. Following her conversion from Buddhism to Christianity, her thirst for biblical knowledge led her to study at Ewart College, from which she graduated in 1959. (Ewart College amalgamated with Knox College in 1991.) The Order of Diaconal Ministries kept alive the idea of ministry as servanthood that has been so important to her.
Tam served as Presbytery deaconess in Westminster, B.C., in the Korean Christian Church in Japan, and as Regional Secretary with the Women's Missionary Society (WMS) in B.C. before returning to teaching high school. She was elected an elder in her congregation. In 1977 she married Barbara Corbett's brother, the Rev. Dr. Don Corbett, and she shared in Don's ministry at Victoria-Royce and Rosedale Presbyterian Churches in Toronto. In these congregations she is remembered for her keen interest in youth, her warm hospitality, and the Sunday lunches she served. Dr. Don Corbett served as principal of Knox College from 1985-1990. In 1991, Tam accepted the position of Executive Secretary with the WMS. In 1996 she was elected Moderator of the General Assembly of the PCC; she was the first diaconal minister and the second woman to serve in that position.
In 2000, Knox College granted Tam a Doctor of Divinity degree (honoris causa). In 2014, Knox College also recognized her with an award for Distinguished Leadership at Knox's 170th Anniversary Convocation. She received this honour for her leadership as a diaconal minister in the Korean Christian Church in Japan, direction of the Women's Missionary Society, and compassionate work in bringing cultures together as the first lay Moderator of The Presbyterian Church in Canada.