Roy Currie passes away; Knox College expresses condolences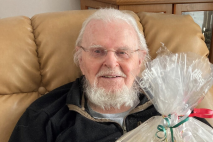 The Rev. Roy Donald Currie passed away July 27, 2023. He was a 1966 Knox College Master of Divinity graduate.
The following obituary was published in the Winnipeg Free Press on Jul 29, 2023 and at Friends Funeral Service:
Rev. Roy Donald Currie, born May 19, 1929, entered the kingdom of God at 3:00 a.m. on Thursday, July 27, 2023.
He was predeceased by his wife Beryl, his parents, and all his eight siblings. His surviving family includes his children, Susan, Stephen (Nancy), Donna (Gus), David, and Jane; his grandchildren, Candy (Terry), Kevin (Stacey), Lincoln (Amber), Leslie-Anne, Joel (Jennyne), Ryan (Jamie), Katie (Stephen), Emily (Eric), his 14 great-grandchildren, and two great-great-grandchildren. Roy also became a special father to many others including Rev. Margaret Mullin and Karen Utech.
Rev. Currie first worked for Consumers Life Insurance in Toronto as an office clerk. He upgraded his education and then became a middle school teacher who worked with special needs children in Highland Creek just outside of Toronto. Roy met his wife Beryl who predeceased him, at Queen Street East Presbyterian Church in Toronto when they were both in baby buggies. They married in 1953 and had five children.
When arranging for their youngest daughter's baptism, Roy finally responded to God's call on his life to go into ministry. Beryl became a reluctant minister's wife when the family was moved into the manse at Leaksdale and Zepher, Ontario where Roy served the two-point charge as a student minister. For three years, Roy commuted into Toronto on Sunday evenings, returning home on Friday evening as he attended Knox Presbyterian College. Roy finished school and was ordained in 1966. He and Beryl served several Presbyterian Churches over their lifetime together in Flin Flon, MB, Lachine, Landsdowne, Dresden, Cobden, and Ottawa, ON, Selkirk, Lockport, and Winnipeg, MB.
In lieu of flowers, please donate to either St. John's or Place of Hope Presbyterian Church.