Roger Lindsay passes away; Knox College expresses condolences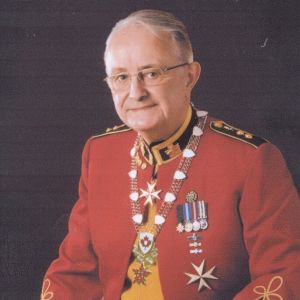 Roger Lindsay passed away March 30, 2023. He served on the Knox College Board of Governors from 1999 to 2005, including as Convenor from 2003-2005. While Convenor, he took the initiative to have Knox's Coat of Arms designed and approved by the Canadian Heraldic Society. He also loved the Knox building and donated to have the Caven Library north window completely renewed.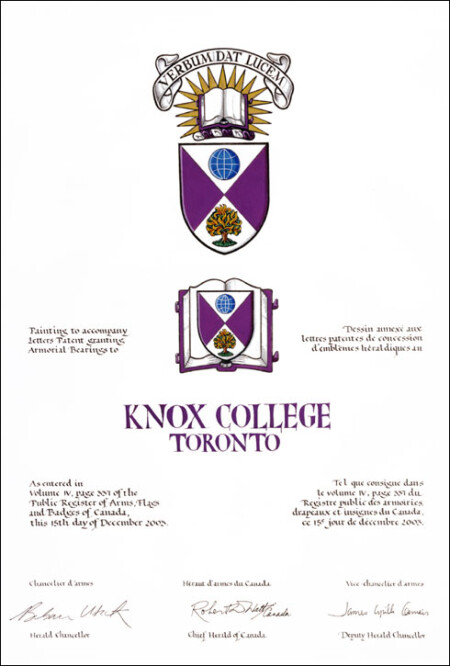 The following obituary appears on the website for Humphrey Funeral Home:
A true gentleman in every sense of the word, Roger Lindsay died peacefully, at his home in Toronto, on March 30, 2023.  Born in Dundee, Scotland in 1941, the son of Archibald Carswell Lindsay and Edith Paterson (nee Bissett), a dearly beloved brother of the late Doreen Brown (Sandy) of Dundee, Scotland and a much admired uncle to Andrew Brown and Lesley Sinclair.  Roger will be remembered by his many dear friends around the world as a kind, loyal and compassionate man.
Roger's early years were spent at The Morgan Academy in Dundee before earning his degree in Administrative Law and Economics at Queen's College, University of St. Andrews.  A member of The Institute of Chartered Accountants of Scotland, Roger began his career in Dundee at the Firm of Andrew G. Kidd Limited (part of The Weston Group) before moving to the head office of Associated British Foods in London.  He arrived in Canada in 1971 when he was given a position with another Weston Group company – Wittington Investments Limited, serving as Executive Vice President until his retirement in 1995.  Until recently, he served as a Trustee, a Director and Secretary of the Board of the W. Garfield Weston Foundation.
An effective and quiet philanthropist in both the United Kingdom and Canada, Roger was a staunch supporter of the Crown in Canada.  His generous financial support enabled extensive renovations to the entrance of Rideau Hall, the official residence of the Governor General in Canada, in addition to many other Crown related projects.  With great pride, he served as Aide-de-Camp to four of Ontario's Lieutenant Governors.  He was a Knight of Justice of the Order of St. John, a past Vice-Chancellor Governance and the past Chief of Protocol of the Priory of Canada of the Order of St. John.  He served as a national trustee of The Presbyterian Church in Canada, and as a convener of the Board of Governors of Knox College, the University of Toronto.  He also served as the Moderator of the Presbytery of East Toronto.  He holds the Queen Elizabeth II Golden Jubilee Medal, the Diamond Jubilee Medal, and the Service Medal of the Order of St. John, with two bars.  In recognition of his contributions to Canadian Heraldry, he was created Rouge Herald Extraordinary in 2006, and in 2015 he was elected a Fellow of the Royal Heraldry Society of Canada.  He was also awarded the Vice Regal Commendation, the Order of St. John Chancellor's Commendation and The Chairman's Commendation – Ontario Council of St. John.  From 2007 – 2014 he held, with great pride, the appointment as the Honorary Colonel of The Windsor Regiment (RCAC).
Roger is remembered for his impish sense of humour, his flock of chirping birds, the St. Andrew's Day dinners he hosted – an annual event for the last 33 years, wonderful Christmas parties where Santa arrived with Teddy Bears for all the children, his abiding love of Scotland and, of course, his extensive collection of single malt scotch.
Family and close friends will receive visitors at the Humphrey Funeral Home A.W. Miles – Newbigging Chapel, 1403 Bayview Avenue (south of Davisville) on Sunday, May 14th from 2:00 to 5:00 p.m.  A funeral service for Roger will be held at Calvin Presbyterian Church, 26 Delisle Avenue (Yonge and St. Clair), Toronto, on Monday, May 15th at 2:30 p.m.  Should you not be able to attend the service for Roger, it will be livestreamed at https://ipickart.com/stream/Lindsay/ and will also be available for 30 days after the service.
For those who wish, donations in lieu of flowers may be made to Calvin Presbyterian Church or to St. John Ambulance (St. John Council for Ontario).  Condolences may be forwarded through www.humphreymiles.com.