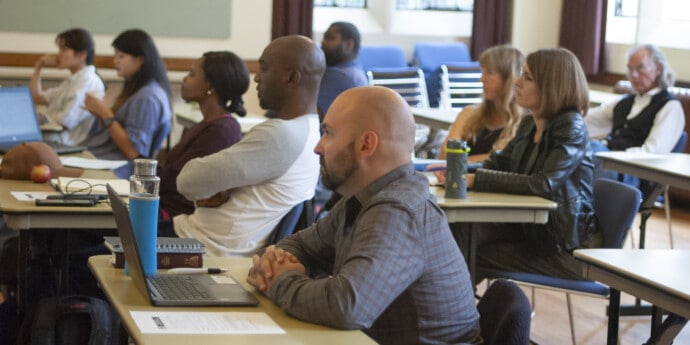 Program Overview
The Master of Divinity (MDiv) program prepares persons for ordained ministry and for the responsibilities of general pastoral and religious leadership in congregations and other settings. Students of any denomination may study the MDiv program at Knox.
Knox College believes strongly in the importance of relevant and contemporary theological curriculum that will meet the dynamic and complex needs of the multicultural and intergenerational congregations that comprise the Church and in the future.
As well as enhancing traditional expectations concerning biblical and theological knowledge, our outcomes-based education measures competencies in: Christian living; cultural and theological understanding; professional knowledge relating to problem solving and conflict resolution; and moral and spiritual growth.
Students must meet all outcomes to graduate, including a biblical language course, a year-long field education placement, and a 7-day intercultural experience at the Seminario Evangelico de Teologia (SET) in Matanzas, Cuba.
The MDiv program requires 30 semester-long courses. It may be completed in 3 academic years of full-time study or can be completed part-time over a period of up to 8 years.
General Assembly Students: Any candidates for ministry within The Presbyterian Church in Canada who do not have an undergraduate degree need to apply for a special program set by the General Assembly. This is done through the Committee on Education & Reception (E & R) of The Presbyterian Church in Canada (www.presbyterian.ca/mcv/).
Admission Requirements
An undergraduate degree (some exceptions apply) or equivalent degree from a university recognized by the University of Toronto
CGPA 2.7/4.0 or greater (70%; B-); if your undergraduate degree was conferred by a postsecondary institution that uses a grading scale other than the 4.0 GPA scale, please review your transcripts to confirm CGPA equivalency before applying to Knox College.
Academic/professional and pastoral references
General Assembly Students who do not have an undergraduate degree are required to submit a letter from The Presbyterian Church in Canada's committee on Education and Reception, which indicates a recommended course of study for the applicant. Applicants are typically required to take at least one year of University level courses prior to admission to Knox College, which is in line with the College's admissions requirement for baccalaureate equivalency.
Tuition Basics
Following are general estimates. See Tuition/Financial Aid for helpful information on tuition, bursaries, and scholarships.
Domestic students
Full-time annual tuition: approximately $6,870 to $8,750
Part-time annual tuition: approximately $1,820 to $4,220
Bursaries available: $430 per course
PCC Leadership Bursary (full tuition) available for PCC-certified full-time MDiv students
International Students
Full-time annual tuition: approximately $20,970 to $25,700
Part-time annual tuition: approximately $5,345 to $14,800
Bursaries available: $430 per course
PCC Leadership Bursary (100% of domestic tuition) available for PCC-certified full-time MDiv students in exceptional cases