Knox College Open House
---
Attending the Knox College Open House last year, I was first struck by the history and beauty of the facilities – and then immediately drawn in by the sense of community and the warm welcome I received. By the end of the event, I was left with a clear sense that this was not only where I wanted to study, but also where I belonged.
– Jonathan Obara, 1st Year MTS Student
---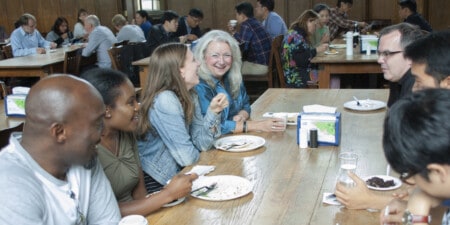 Come and experience Knox College — a leader in Reformed theological education, equipping graduates to live authentically and courageously in today's world. 
If you're interested in interacting with Knox faculty, students, and staff, and learning which program of study captures your imagination and fuels your calling, join us at the open house on Tuesday, March 3, 2020. Please complete the registration form below. We look forward to getting to know you!  
Our Faculty work with students to pursue academic excellence, think theologically, interpret scripture, and be creative and faithful leaders for their congregations and communities at home and abroad. At the heart of the University of Toronto, we're a founding partner in the Toronto School of Theology. 
Questions? Contact Megan (416-978-5306). 
Download the flier: general Open House or Master of Pastoral Studies focus 
SCHEDULE FOR THE DAY: March 3, 2020
9:45am: Registration
10:30am: Welcome
11am: Classroom experience
12pm: Tour of Knox College
1pm: Community lunch
2pm: Academic info session
Knox College Open House
Be sure to click the green SUBMIT button at the bottom of the page when you've completed the form.