James Thomson passes away; Knox College expresses condolences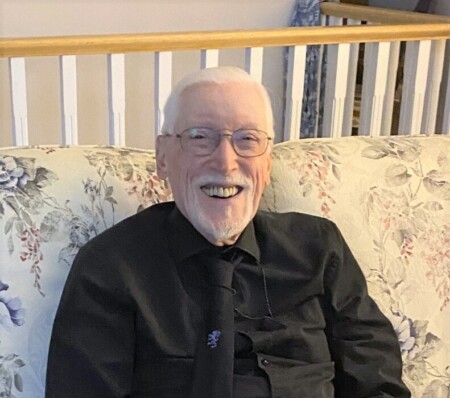 The Rev. Dr. James A. Thomson died on Monday, April 3, 2023. He was a 1957 Knox Master of Divinity graduate, and Knox granted him the degree Doctor of Divinity (honoris causa) in 1987. He also taught courses in Reformed Worship at Knox.
The following obituary appears on the Reynolds Funeral Home website:
The Rev. Dr. James A. Thomson died on Monday, April 3, 2023, at Andy's House, Port Carling, in his 94th year. Beloved husband of the late Evelyn (Settle) Thomson. Loving father of Stuart Thomson (Deborah), David Thomson (Leslie) and Dr. Eoin Thomson. Dear grandfather of Eric, Bethany, Kaelagh and Isaac, MacKenzie, Madison and Taylor and great-grandfather to Rico, Renson and Benny. He will be missed by his sister-in-law Audrey and nephews Warren, Durward, and families. Cremation has taken place. Visitation took place on Tuesday April 11th from 11 am – 1 pm at Knox Presbyterian Church Taylor Road, Bracebridge where the memorial service was conducted at 1 pm with Rev. Dr. Heather Malnick officiating. The service was recorded and is available for viewing on the Church website. Memorial Donations may be made to Andy's House, Hospice Muskoka or the Knox Presbyterian Church Memorial Fund.
Rev. Dr. Jim Thomson was a dedicated and devoted minister with The Presbyterian Church in Canada. In his early years, he served congregations in Orillia and Downsview. In 1968, Rev. Dr. Thomson was called to Knox Presbyterian Church in Bracebridge, which at that time was a two-point charge with Knox Gravenhurst. Rev. Thomson guided the congregations through the transition of becoming single-point charges and he remained as minister at Knox, Bracebridge until his retirement in 1995. Rev. Dr. Thomson was also an academic and life-long learner. He taught courses in Reformed Worship at Knox College, University of Toronto and Religious Studies at Thorneloe College, Laurentian University. He served the wider church on a number of national committees and was known for his love of liturgy and church doctrine. Jim loved the church greatly and spoke about it lovingly and with concern, even during the last days of his life. Some things that brought Jim great joy: his Scottish heritage, golfing, boat building, collectibles, engaging in challenging academic discussions, expanding his already vast knowledge by participating in The Great Courses, his family, his congregation, and a good single malt Scotch. Jim had a soft spot for the youngest members of the congregation, which was mutual. He was often joined by a wee one who would sit beside him during Sunday morning services. The church and the wider community have been forever impacted by Rev. Dr. Jim Thomson's ministry and friendship – from the many baptisms, weddings, funerals, and worship services he conducted to his endearing smile and ability to engage in conversation with just about everyone. He will be greatly missed. "Come to me, all who are weary, and I will give you rest."