James Perrie passes away; Knox College expresses condolences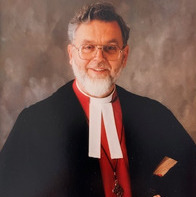 The Rev. James "Jim" George Perrie passed away on Monday, April 3, 2023. He was a 1964 Knox Master of Divinity graduate.
The following obituary is posted on the Gilpin Funeral Chapel website:
It is with great sadness that the family of the Rev. James "Jim" George Perrie of Kerwood announce his passing on Monday, April 3, 2023 in his 88th year.
Beloved husband of Marion Ruth (Heaslip) for almost 50 years. Loving father of Linda & Bill Catchpole of Arkona, and Paul Perrie. Cherished brother of the late Donald Perrie of Brussels (Brenda & Family).
Reverend James George Perrie was born in Grey Twp. near Cranbrook, Ontario, and grew up on the family farm. After completing grade xii at Seaforth District High School he taught public school at U.S.S, #9, Mornington and Elma, Perth County for two years. During this time he was called to the Christian Ministry and after completing Bachelor of Arts at Waterloo Lutheran, he attended Knox College, Toronto and was ordained on May 5, 1964 at Melville Presbyterian Church, Brussels, by the Presbytery of Huron Maitland, to the pastoral ministry of the Presbyterian Church of Canada. He served in rural and small town congregations in Alberta at Killam and Galahad and in Ontario: the Beechwood pastoral charge, near Strathroy; Shakespeare and North Easthope; North Pelham and Rockway, in the Presbytery of Niagara, and retired from Geneva Presbyterian Church, Chesley, and now resides in Kerwood, Ontario. Jim was elected to a two year term on the Perth County Board of Education 1981-1982. He also enjoyed being Clerk of Presbyteries of Sarnia and Stratford-Huron.
Knowing Jim's love for the Lord, we are comforted and assured that he will spend eternity with Jesus, his Saviour.