Evelyn Bailey passes away at 103; Knox College expresses condolences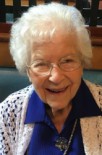 Evelyn Mary Bailey (nee Traviss) passed away at the Norfolk General Hospital, Simcoe on Saturday, January 16, 2021, in her 104th year.
Evelyn and her late husband Albert (1951 Knox MDiv grad) both had a lifelong commitment to Christian Education and were strong supporters of Knox College. The Albert & Evelyn Bailey Fund for Future Directions in Christian Education was established in 2008 as an endowment with donations from the couple, family, and friends on the couple's 65th wedding anniversary, to recognize their more than 55 years of ministry and service to God.
Evelyn's obituary, as published in the Simcoe Reformer:
Beloved wife of the late Rev. Dr. Albert Bailey (2014). Cherished mother of Mary Lyn Horvath (Bert) of Calgary, Jay Bailey (Hope Watson) of Simcoe, Susan McElcheran (Tim) of Toronto, and the late David Bailey (1971).
Loving grandmother and great-grandmother to Wendy Wadstein (Roger), children Loren, Teigan, and Kaden; Laurelyn Cavilla (Mike), children Caitlyn and Michyla; Rebekah Main (Greg Swift), children Sydney, Thai, Pablo, and Ashreena; Keehan Koorn (Johann); Caris Hamilton (Rob), children Aili and Azlen; Patrick McElcheran (Subrina), Luke McElcheran (Melissa Kawaguchi), and Anna McElcheran.
Evelyn was predeceased by her siblings Audrey Cumber, Ruth Hilton, Gordon Traviss, and Wilbur Traviss. Evelyn will be lovingly remembered by nieces, nephews, and extended family.
A public visitation and memorial service will be held when covid 19 restrictions are lifted. Those wishing to donate in memory of Evelyn are asked to consider the Albert and Evelyn Bailey Educational Fund, Knox College – Toronto; St. Paul's Presbyterian Church, Simcoe; or the Canadian Bible Society. Donations may be mailed to the Jason Smith Funeral Chapel, 689 Norfolk St. N. Simcoe, ON N3Y 3R3. Personal online condolences at www.smithfuneralchapel.com.