You, your congregation, and the end of the world: an interview with Dr. Brian Irwin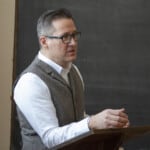 Dr. Brian Irwin teaches "You, Your Congregation, and the End of the World: Reclaiming Biblical Apocalyptic for the Church" and is in the final stages of writing a book on the same topic. Dr. Irwin joined the Knox Faculty in 2004 as associate professor of Old Testament/Hebrew Scriptures. This article appears in the Fall 2019 issue of Connexions magazine; subscribe here.
What was your inspiration for "end times" research?
I grew up in the 1960s and 1970s in a corner of dispensational evangelicalism when all eyes were on the Middle East. The book The Late Great Planet Earth was popular, and the end times movie thriller A Thief in the Night was making rounds in churches. It all seemed pretty exciting. As I started to "fact check" some of the books I was reading, however, I came up disappointed. I had a hard time finding the tanks and helicopters that people like Hal Lindsey wrote about, or the Russian hordes that were supposed to sweep down and attack Israel.
Over time, how I read scripture began to change. When I came to study at Toronto School of Theology, I started to swim in a bigger Christian pond and have conversations with other students who came from the mainline protestant denominations. In and around a class on apocalyptic literature, when Daniel or Revelation came up, generally someone would say how ridiculous it was to interpret those books in light of today's politics.
This would prompt me to ask what they thought of end times, and how they read those parts of the Bible. The answer was always some variation of "Pfft, I have no idea" and/or "Once I'm in a church, I don't plan to go anywhere near those books." I would always think to myself, "At least those other people are taking a crack at things" and trying to interpret them.
As I spent more time working on Ezekiel, Daniel, and Revelation, I realized that I could write a book that would benefit many mainline students and pastors — a book that explains how dispensationalism works, and what it concludes about how the world wraps up. I would also need to explain apocalyptic and prophecy as genres, including how they function and need to be read. I knew that I wanted to wrap up with a reading of Daniel and Revelation to give students and ministers a sense of the "big idea" of both books, with thoughts on what they can teach the church today.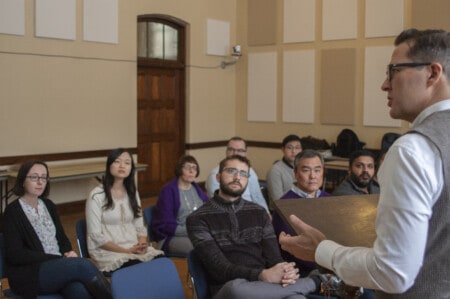 The Apocalypse and end times have certainly been themes in popular culture – in television/movies as well as in books (like Left Behind). Why is this concept so interesting to us?
The end of the world sells. Whether it's Bruce Willis sent to divert an earth-bound asteroid, or nature going haywire with floods and volcanoes causing global devastation, Hollywood loves stories in which the fate of the world hangs in the balance. Throw in the idea that all of this was foretold in some ancient prophecy, or the work of some religious wacko, and you have something to take to a studio.
My one beef is that when Hollywood deals with religious people and end times, the religious person is generally the "nutbar" who schemes to advance the return of Christ by fast-tracking global destruction. This perpetuates a stereotype that has little connection to reality. Dispensationalist Christians—the ones with the greatest interest in end times — are also the ones with the strongest sense of the sovereignty of God and the view that he alone determines the timing of the end. So they're actually the least inclined to try to interfere with God's timeline.
Why should we care about end times?
John Nelson Darby, the father of dispensationalism, held the view that the church that doesn't teach about Christ's return is dead. I have to agree. Knowing that Christ will someday return is a great motivator for Christian living and evangelism. It also reminds us that evil has an expiry date and inspires us as we seek to be light in the darkness.
What does it mean to reclaim a biblical apocalyptic?
A minister's week can be hairy. Sunday is looming, and you never know if your week is going to involve a hospital visit or even a funeral. When that's the case, who wants to take on something as weird as the beasts of Daniel, or the plague- and death-spewing bowls and trumpets of Revelation? It's easier and safer to stick with something more straightforward. So, I suppose that I'm trying to reclaim biblical apocalyptic from obscurity. That means showing how these books made sense to their original audience and spoke a powerful message that we can learn from today.
How does this research apply to the life of the church?
I hope that students in the course and readers of the book come away with a more sympathetic understanding of dispensationalism and a better appreciation for how it has shaped global Christianity. And I hope that this leads to a better understanding and appreciation of those in Presbyterian contexts who might come at scripture from a different perspective.
When it comes to how all this applies to the life of the church, I give credit to Stan Walters, my professor and predecessor in Old Testament here at Knox. He wrote that Daniel is about how people of faith relate to the powers of this world in times of engagement and hostility. As I read the book of Revelation, I'm impressed at how it depicts the seemingly mundane struggles and temptations of the church as having a dramatic impact in the cosmic, spiritual world that is hidden from our view. It also reminds us that the faithful are not always rescued in the nick of time. Sometimes they are faithful even unto death, but they go there knowing that the one they follow has defeated death through his resurrection. In this, Revelation brings us face to face with the plight of the persecuted church today.
What do our beliefs about end times say about our understanding of God?
I could talk for a long time on this one point alone. If we're awake, then what we truly believe has an effect on what we do and what we perceive to be God's priorities in the world.
This being the case, it's not surprising that the Social Gospel movement grew out of mainline protestant churches that had a post-millennial view of Christ's return. If Jesus is going to return after an extended period of advance and improvement, then we had better get about the business of improving the world we live in. In the late nineteenth and early twentieth centuries, this led to support for noble causes like public healthcare and better labour laws. Unfortunately, it also paved the way for church support for eugenics and native residential schools.
On the dispensationalist side, the belief that the world will get worse and that Christ's return will usher in his millennial kingdom has left many dispensationalists unconcerned about things like threats to world peace or the prospect of nuclear conflict. On the positive side, it has created a sense of urgency when it comes to evangelism and global missions.
What is dispensationalism and why should we care? 
Dispensationalism is the system of theological interpretation that underlies the end times teaching found in many protestant churches today. It divides history up into different periods or dispensations and maintains that in each, God has worked in different ways to bring people into relationship with himself. Each period, however, follows a similar cycle that includes a widespread rejection of God's overture, acceptance by a receptive few, and finally, judgement.
Compared to post-millennialism, the approach to end times that informed mainline Protestantism in the nineteenth and twentieth centuries, it can come across as pessimistic. At the same time, however, dispensationalism has been a massively energizing force for many Christians who hold to it – especially when it comes to evangelism. The idea that Christ might return at any moment – a key belief of pre-millennial dispensationalism – was a large part of the message of evangelists D.L. Moody and Billy Graham. Over the last 150 years, this same view has motivated churches and individuals to commit their money and their lives to global missions.
Ministers in particular should care about and understand dispensationalism because they will have dispensationalist-minded people in their congregations. The temptation might be to ignore or write them off, but these people are likely to be among the most biblically literate and ministry-minded members of the congregation. Understanding what makes them tick can help ministers engage them more sympathetically and better involve them in the work of the church.
Why is it important for church leaders to reclaim a biblical apocalyptic? 
Apocalyptic is part of the Bible, so for that reason alone, it matters. It is also a genre that reaches out to and connects with other parts of scripture in ways that we often miss. The writers of apocalyptic were like those artists who create sculptures from found objects. They grab material from the creation story, law, and images from prophetic books, and they put them together in a way that leverages the meaning in those other contexts to bring a powerful message to a new audience facing struggles of its own.