Prof. Emeritus Donald C. Smith passes away; Knox College expresses condolences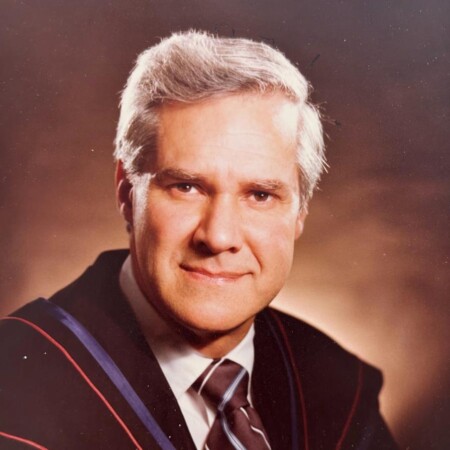 The Rev. Dr. Donald C. Smith passed away on July 19, 2023. He was a 1959 Knox College Master of Divinity graduate, and in 1976 he became Director of Field Education (until 1979) and Professor of Church and Ministry at Knox College until his retirement in 1996. He was designated Professor Emeritus in 1996.
Knox College expresses condolences to Dr. Smith's family; we are grateful for his many years at Knox College.
The following obituary appears on the aftercare.org website, along with words of tribute:
The Rev. Dr. Donald C. Smith died peacefully on July 19, 2023 age 95. Beloved husband of Margaret (nee Finlayson), his wife of 65 years, and loving father of Fiona (Tom), Sheila, Neil (Jackie) and Laura (John). Dear grandpa of Owen, Delaney, Neve, Sheridan and Mackenna. Predeceased by his brother Russell.
He was born in Toronto on May 26, 1928 to Douglas Robert Smith and Laura Jeannie Cantlay and was educated at Rawlinson Public School and Vaughan Road Collegiate. While in high school he joined the CCF and was a life long New Democrat.
His family were members of Oakwood Presbyterian Church and as a young man Don was active in the Presbyterian Young People's Society (PYPS) and he and Margaret spent many summers with friends at Glen Mhor Camp in Muskoka.
He was a graduate of McMaster University, Knox College (U of T) and received his Ph.D. from the University of Edinburgh. He was ordained in The Presbyterian Church in Canada in 1964 and served the congregations of Knox Church, Port Alberni, B.C. and St. John's Church, Medicine Hat, Alberta where he and Margaret made many life long friends. In 1976 he returned to Toronto as Director of Field Education and Professor of Church and Ministry at Knox College. He was active in many denominational and ecumenical bodies including the Toronto School of Theology and the World Council of Churches.
Throughout his life he was passionately committed to social, economic and political justice and supported numerous progressive organizations and agencies. He believed in ministry as social justice and in a new society – one of caring and compassion, of sharing and sacrifice, of social solidarity, of community.
Don and Margaret were active members of Union Church, Halton Hills and lived more than 30 years in Georgetown. He retired in 1996 and enjoyed time with family and friends, reading, writing and traveling. His kind, caring and compassionate nature will be sorely missed. A private service will be held.
Condolences and words of tribute may be shared here at aftercare.org.