David Brian Vincent passes away; Knox College expresses condolences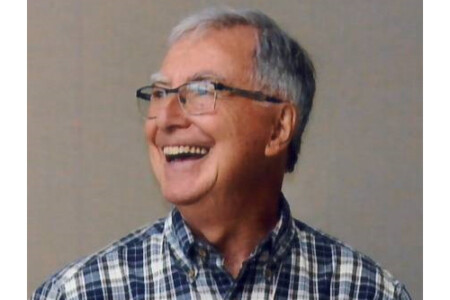 The Rev. David Brian Vincent passed away on December 12, 2022. He was a 1979 Knox College Master of Divinity graduate.
David passed away peacefully at the Glebe Centre with Barbara, his loving wife of 51 years, by his side. He was 80 years old. He was a proud dad to Andrew (Meghan) and Colin (Carmen) and a kind (sometimes silly) grandpa to Tom, Jeannie and Nuala.
Born in Belfast, Northern Ireland during the blitz of WWII, David was raised in a happy working class family that included his parents (Steven and Elizabeth), his five siblings (Ron, Desmond, Rosemary, Raymond and Alan) and his wee Gran. Faith, music, and a belief in the gospel of "love thy neighbour" were touchstones in the family and would remain so throughout David's life.
After completing his first degree at Queen's University, Belfast, David came to Canada in 1965 to do a Masters in urban geography at the University of Manitoba in Winnipeg. There he met Barbara, a nurse, and the pair married in 1971. After a short stint as an urban planner, David felt a different calling and moved with his young family to Toronto to pursue a Master's in Divinity at Knox College. A 27-year career as a Presbyterian minister followed, with churches in Toronto, Burlington and Calgary. During this time he completed a Doctor of Ministry Degree from Fuller Theological, Pasadena.
David loved learning, books, ideas, and was a gifted communicator who could connect with anyone and made all feel welcome. As a preacher, he condensed much wisdom into few words and was well loved for his lively sense of humour (as well as his brevity!).
In retirement, David discovered he was a dog person and he and Barbara welcomed a dear golden retriever, Monty, into their household. Walking Monty through the foothills in Calgary and chucking tennis balls for him to chase was one of David's great pleasures in his later years.
David was diagnosed with Alzheimer's shortly after his retirement from ministry. His approach to living with the disease mirrored his approach in life, which was to rarely complain; to take joy in small things like music, dog walks, and a good story; and to always be kind to whoever he met.
Many thanks to the Care Team at Glebe Centre for many meaningful activities and the excellent end-of-life care provided to David and family.