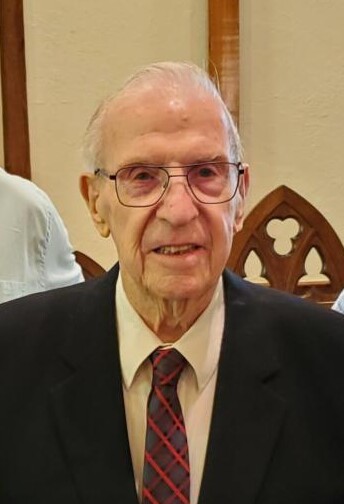 Knox College is sad to announce that the Rev. Dr. Alexander McDonald McCombie (1959 Knox Master of Divinity graduate) passed away on September 16, 2022. The following obituary appears on the website of the Rhody Family Funeral Home.
————
Alex was born in Toronto to parents Robert and Mary (Anderson) McCombie. The family moved to Collingwood where Robert took a job as a supervisor at the Collingwood Shipyards. While in high school Alex met a young woman by the name of Ruth Iona Collins. The couple were high school sweethearts. One of their common interests was music. Alex took singing lessons which greatly helped in his career as a minister. Through the years Alex would sing while Ruth accompanied him on the piano. Ruth and Alex were married on October 31, 1953.
While in high school, Alex accepted Jesus into his life at a Youth for Christ event. His pastor in Collingwood recognized Alex's gift for being a future minister and even though he was a teenager asked him to preach at the Meaford Presbyterian Church as they did not have a minister that Sunday.
Alex graduated from the Ontario Bible College in 1952. He graduated from Western University in 1956. During this period, on the weekends, he would travel with the Wathke brothers to stay with them at their Marmion area farm and preached at local Presbyterian Churches. The two most frequently were at Burgoyne and the Presbyterian Church at Salem (the 10th of Elderslie). Alex graduated from Knox College, Toronto in 1960. In 1984, he received the Doctor of Ministry degree from Fuller Theological Seminary.
The first church he pastored was in Baddeck, Nova Scotia. Then Sherbrooke, Quebec, Islington, On and New Westminister, B.C. before returning to Toronto at Knox Presbyterian Church on Spadina Ave. In 1972 -73 and again 1987-89 he served the Presbyterian Church in Canada specializing in evangelism. Alex retired in 1996 and moved to his farm property outside of Chesley. During his retirement he preached almost every Sunday and helped Presbyterian churches in Grey/Bruce who were looking for ministers until failing health forced him to stop. He preached at the 100th anniversary services at the Sherbrooke Presbyterian Church and 50 years later preached at their 150th anniversary.
He was known for his golden tenor voice, warm disposition and keen sense of humour. All who have come into contact with him have felt themselves greatly enriched.
Rev. Dr. Alexander McDonald McCombie of Cambridge, formerly of Chatsworth, passed away peacefully at Lisaard House, Cambridge, on Friday, September 16, 2022 in his 93rd year.
Alex was the loving father of Ian (Ruth Lynne) of Hanover, Aird of Chatsworth, Roger of Caledon, Stephen (Mary) of Cambridge, Trevor of Toronto, Gavin (Ferne) of Dartmouth, NS, Jane McCombie of Caledon and Jillian (Paul) Hodgson of Cambridge. Alex will be remembered by his 15 grandchildren and 9 great grandchildren. Alex was predeceased by his wife, Ruth Iona in 2017, his sisters Dorothy and Helen, his brothers Robert and James, and parents Robert and Mary (Anderson) McCombie.
A memorial service honouring Alex's life and his Lord will be held at St. Andrew's Presbyterian Church, 3819 Bloor St W., Islington, on Saturday, October 1, 2022 at 11 a.m. A public inurnment will be held in the Chesley Cemetery on Monday, October 3, 2022 at 1 p.m.
As expressions of sympathy, memorial donations to the Canadian Cancer Society or the St. Andrew's Presbyterian Church, Islington, would be appreciated by the family.
The family would like to acknowledge and thank the staff at Lisaard House for their compassionate care and support.