Celebrating Laura Alary's book _Sun in My Tummy_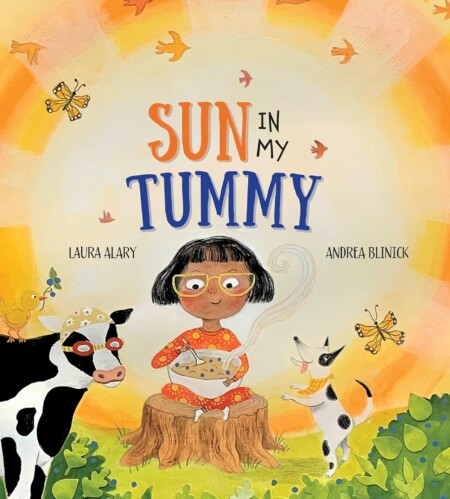 Knox College is proud to celebrate the nomination of Laura Alary's book Sun in My Tummy as a finalist for the Norma Fleck Award for Canadian Children's Non-Fiction. The Norma Fleck Award is one of seven national awards administered by the Canadian Children's Book Centre (CCBC) that celebrate excellence in children's literature.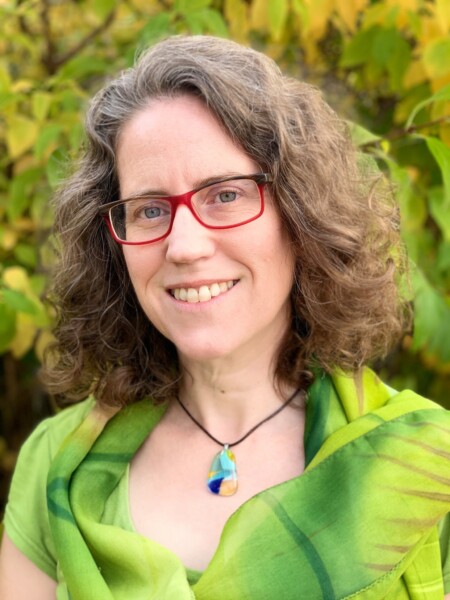 Sun in My Tummy: How the food we eat gives us energy from the sun (2022, Pajama Press) was written by Laura Alary and illustrated by Andrea Blinick. Laura Alary is Coordinator of the McKay Educational Resource Centre at Knox College's Caven Library. She graduated from Knox College in 1996, and she joined the Caven Library staff in 2019. Laura is a storyteller and educator who believes in writing stories that "make us bigger on the inside."
The CBCC jury called Sun in My Tummy "a beautiful and tender book that shows our interconnectedness to the earth." They said, "Alary uses free verse to introduce the concepts of matter and energy, creating a simple yet effective explanation for young children to help them understand how the sun's light becomes fuel for our bodies through the food we eat… With gentle, lyrical text and radiant illustrations, Sun in My Tummy is fantastic at explaining complex scientific ideas in a simple way."
"Congratulations to all of the finalists for the 2023 CCBC Book Awards," said Urve Tamberg, President of the CCBC's Board of Directors. "This year's shortlisted titles celebrate outstanding contributions to Canadian children's literature. Compelling and groundbreaking, these books illuminate the diverse experiences young people experience today from coast to coast. This year's books are both relevant and inspiring, yet also brimming with wonder and delight. Most importantly, they are narratives that will resonate with young readers and challenge them to see the world from a different perspective."
The CCBC is a not-for-profit organization dedicated to helping Canadian parents, educators, and caregivers foster a love of reading in children and teens. Learn more about the award and see the full list of finalists here.
Laura has published 15 children's books (see below) and has received many awards and other special recognitions. Learn more at https://lauraalary.ca. Her books are available at your favourite independent bookseller or at Amazon. Laura's latest book, All the Faces of Me (Owlkids Books) with illustrator Salini Perera, just launched on October 15, 2023.
Books by Laura Alary:
Picture Books, Board Books, Story Collections:
All the Faces of Me (Owlkids Books, 2023)
Here: The Dot We Call Home (Paraclete Press, 2022)
The Astronomer Who Questioned Everything: The Story of Maria Mitchell (Kids Can Press, 2022)
Sun in My Tummy (Pajama Press, 2022)
Make Space for Jesus (Paraclete Press, 2022)
Breathe: A Child's Guide to Ascension, Pentecost, and the Growing Time (Paraclete Press, 2021)
What Grew in Larry's Garden (Kids Can Press, 2020)
Read, Wonder, Listen: Stories from the Bible for Young Readers (Wood Lake Books, 2018)
Look! A Child's Guide to Advent and Christmas (Paraclete Press, 2017)
Make Room: A Child's Guide to Lent and Easter (Paraclete Press, 2016)
How Do I Pray for Grandpa? (Wood Lake Books, 2014)
Mira and the Big Story (Skinner House Books, 2013)
Victor's Pink Pyjamas (Wood Lake Books, 2013)
Jesse's Surprise Gift (Wood Lake Books, 2012)
Is That Story True? (Wood Lake Books, 2010)
Chapter in edited volume:
"What is this story doing to me? Biblical Storytelling for a Global Generation" in Let the Children Lead:
Exploring Children's Spirituality Today, edited by Elizabeth DeGaynor (VTS Press, 2023)