Rekindling hope: making meaning in the face of suffering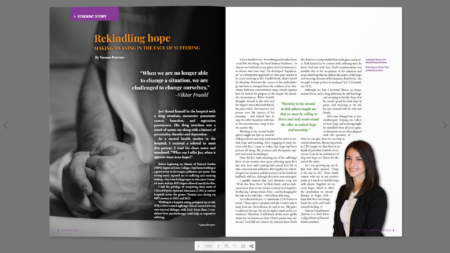 This article appears in Vocations magazine, Summer 2023. Read this article in the magazine online or download the PDF. To subscribe, click here.
By Vanessa Paterino
"When we are no longer able to change a situation, we are challenged to change ourselves." -Viktor Frankl
Joe* found himself in the hospital with a drug overdose, metastatic pancreatic cancer, homeless, and aspiration pneumonia. His drug overdose was a result of opiate use along with a history of personality disorder and depression.
As a mental health worker in the hospital, I received a referral to meet this patient. I read his chart notes and wondered, "What can I offer Joe, when it appears there is no hope?"
Before beginning my Master of Pastoral Studies (MPS) degree at Knox College, I had been working as a grant writer in the hospice palliative care sector. This setting surely exposed me to suffering and meaning making – but I was feeling empty in this career. I wanted more, and my MPS degree allowed exactly for this.
I had the privilege of completing three units of Clinical Psycho-Spiritual Education (CPE) at various hospitals across the greater Toronto area during my MPS journey in 2021 and 2022.
Working in a hospital setting prompted me to ask, Why is there so much suffering? This of course led to my own internal dialogue with God. From there, I considered how psychotherapy could help us respond to suffering.
Victor Frankl wrote, "Everything can be taken from a man but one thing: the last of human freedoms – to choose one's attitude in any given set of circumstances, to choose one's own way." He developed "logotherapy" as a therapeutic approach: to value pain and use it to create meaning in life. Frankl's book, Man's Search for Meaning, illustrates the essence of his methodology and how it emerged from the confines of an Auschwitz-Birkenau concentration camp. Frankl explains how he looked for purpose in life despite the dreadful circumstances. When Frankl's thoughts turned to his wife and the happier times they had shared, his pain ended. This memory and person were the sources of his meaning – and helped him to urge the other members with him in the concentration camp to live for another day.
Working in the mental health sphere taught me that we must be willing to listen and truly understand the other to unlock hope and meaning. After engaging in many sessions with Joe, I came to realize that hope had been present all along. My presence and therapeutic support were tools for finding it.
How did Joe make meaning out of his suffering? Most of our sessions were spent reflecting upon Joe's late wife. Joe's wife's passing had caused Joe's life to take a turn towards addiction. But together we reflected upon her memory and the memory of the family he had built with her, although they were now estranged.
I quickly learned that Joe's favourite song was "Wish You Were Here" by Pink Floyd, and we dedicated some time in our session to listen to it together. To this day, I always think of Joe – and his longing for his wife to be with him – when I hear this song.
As I reflected on Joe, 1 Corinthians 12:8-9 came to mind: "Three times I pleaded with the Lord to take it away from me. Nevertheless, he said to me, 'My grace is sufficient for you, for my strength is made perfect in weakness.' Therefore, I will boast all the more gladly about my weaknesses so that Christ's power may rest on me." God did not remove the obstacle from Paul's life; however, God provided Paul with grace and power. Paul learned to be content with suffering since he knew God was with him. Paul's transformation was possible due to his acceptance of his situation and peace, knowing that his faith is the source of his hope and meaning. Because of his situation, Paul wrote, "my strength is made perfect in weakness" (cf. 2 Corinthians 12:9).
Although Joe had a terminal illness, no home, mental illness, and a drug addiction, he still had hope and meaning in his life: hope that he would spend his final days in peace, and meaning in the life he once shared with his wife and family.
Joe's case changed me as psychotherapist, helping me reflect on how hope and meaning might be rekindled when all seems gone. As therapists, we are often plagued with the question of what we can give, how we can help in various situations. But my experience in CPE taught me that there is no depth of pain that I can't be of service to. I can be an instrument of help and hope as I listen for the soul of the other.
As I was growing up, my father had often quoted, "Hope is the last to die." These words remain with me in my practice today as I search to identify hope with clients. Together we uncover hope, which is often the motivation to attend therapy to begin with – hope that they can change, break the cycle, and work towards healing.
Vanessa (Casalinuovo) Paterino is a 2023 Knox College Master of Pastoral Studies graduate. 
*pseudonym
This article appears in Vocations magazine, Summer 2023. Read this article in the magazine online or download the PDF. To subscribe, click here.