From lawyer to minister: a career transition in midlife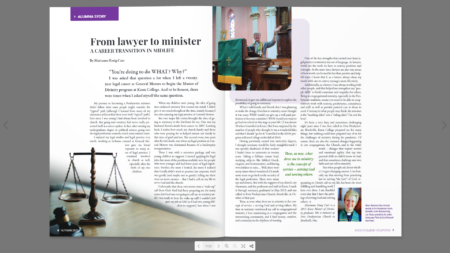 This article appears in Vocations magazine (pictured at right), Autumn 2022. Read this article in the magazine online or download the PDF. To subscribe, click here.
By Marianne Emig Carr
"You're doing to do WHAT? Why?" I was asked that question a lot when I left a twenty-year legal career at General Motors to begin the Master of Divinity program at Knox College. And to be honest, there were times when I asked myself the same question.
My journey to becoming a Presbyterian minister didn't follow what some people might consider the "typical" path (although I learned from many of my classmates at Knox that there is no truly "typical" path). Ever since I was young I had always been involved in church. But going into ministry had never really presented itself as a career option. In fact, after earning my undergraduate degree in political science, going into the legal profession seemed a much more natural route.
I enjoyed my legal studies and legal practice very much; working as in-house counsel at General Motors gave me broad exposure to many areas of legal practice. I remained involved in church as well, especially after the birth of my two children.
When my children were young, the idea of going into ordained ministry first crossed my mind. I didn't give it too much thought at the time, mainly because I was also enjoying my legal practice at General Motors.
But two major life events brought the idea of going to seminary to the forefront for me. One was my husband Kevin's death from cancer in 2007. Looking back, I realize how much my church family and those who were praying for us helped sustain our family in this time of grief and loss. The second event, two years after Kevin's death, was when my legal position at General Motors was eliminated because of a bankruptcy reorganization.
There I was, with a severance package and two young children to support. I started applying for legal jobs, but most of the positions available were for people who were younger and had fewer years of legal experience. Further, the more I looked, the more I realized that I really didn't want to practice law anymore. God was gently (and maybe not so gently) telling me there were no more excuses – that I had a call on my life to serve God and the church.
I often joke that these two events were a "wake-up" call from God. God had been preparing me for many years, but God was not going to call me to ministry until I was ready to hear the wake-up call! I couldn't just quit my job at GM (as I had two young children to support), but when I was downsized, it gave me additional impetus to explore the possibility of going to seminary.
When I told family and friends that I was planning to make the change from law to ministry, some thought it was crazy. WHY would you give up a well-paid profession to become a minister? WHY would you want to go back to school at this stage in your life? (I was almost 50 when I enrolled at Knox.) But I was surprised by the number of people who thought it was a wonderful idea and that I should "go for it." I enrolled in the MDiv program at Knox College in the fall of 2010.
Having previously earned two university degrees, I thought seminary would be fairly straightforward. I was quickly disabused of that notion! I hadn't been to university in twenty years. Taking a fulltime course load, studying subjects like biblical Greek, exegesis, and hermeneutics, and having two children to raise…. Well, there were many times when I wondered if it made more sense to go back to the security of the legal profession. There were many ups and downs. But with the support of my church, my classmates, and the professors and staff at Knox, I made it through seminary, graduated in May 2013, and was called to First Presbyterian Church, Brockville, in October of that year.
Then, as now, what drew me to ministry is the concept of service – serving God and serving others. My time at seminary reinforced my call to congregational ministry. I love ministering in a congregation and the surrounding community, and I find beauty, comfort, and continuity in the rhythms of worship.
One of the key strengths that carried over from legal practice to ministry was use of language. As lawyers, words are the tools we have to convey positions and concepts. At the same time, lawyers are also very aware of how words can be used in less than positive and helpful ways; I know that I, as a lawyer, always chose my words with care to convey messages most effectively.
Additionally, as a lawyer, I was always working with other people, and that helped me strengthen my "people skills" to build consensus and empathy for others. Being in congregational ministry, especially in the Presbyterian tradition, means you need to be able to cooperatively work with sessions, presbyteries, committees, and staff, as well as provide pastoral care to those in need. Contrary to what people may think, the minister is the "teaching elder," not a "ruling elder." I'm not the boss!
It's been a very busy and sometimes challenging eight years since I was first called to First Presbyterian, Brockville. Knox College prepared me for many things, but nothing could have prepared any of us for the challenges of ministry during the pandemic. Of course, there are also the constant changes happening in our congregations, the Church, and in the wider world – changes that require mental and emotional agility, that tap into pastoral skills we didn't know we had, and that sometimes challenge our own faith and our call to ministry.
But when people ask about whether I regret changing careers, I can honestly say that moving from practicing law to serving "the Law" of God, responding to Christ's call on my life, has been the most fulfilling and humbling work I have ever done. I am thankful every day that I have the privilege of serving God and serving others.
Marianne Emig Carr is a 2013 Knox Master of Divinity graduate. She is minister at First Presbyterian Church in Brockville, Ont.
This article appears in Vocations magazine, Autumn 2022. Read this article in the magazine online or download the PDF. To subscribe, click here.