The reality of systemic harm: a glimpse of the Indigenous experience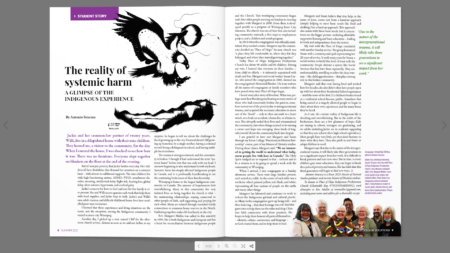 This article appears in Vocations magazine (pictured at right), Summer 2022. Read this article in the magazine online or download the PDF. To subscribe, click here.
By Antonio Siracusa
Jackie and her common-law partner of twenty years, Willi, live in a dilapidated home with their nine children. They hosted me, a visitor to the community, for the day. When I entered the house, I was shocked to see how bare it was. There was no furniture. Everyone slept together on blankets on the floor at the end of the evening.
But it's not just poverty that Jackie battles every day. Her children all have disabilities that demand her attention on a constant basis – with almost no additional supports. The nine children live with high-functioning autism, ADHD, PTSD, attachment disorder, smearing, intellectual delay, flight risk, hearing loss, global delay, silent seizures, hypertonia, and cerebral palsy.
Jackie's concern for how to feed and care for her family is ever-present. She and Willi access agencies each week that help them with food supplies, and Jackie buys in bulk. Jackie's and Willi's own adult traumas and difficult childhood home lives have modelled poor ways to interact.
I learned that these experiences and living situations are the norm, not the exception, among the Indigenous community I visited in inner-city Winnipeg.
Another day, I picked up a man named Cliff for the afternoon church service. Almost as soon as we said our hellos, to my surprise, he began to tell me about the challenges he faced growing up in the city. I learned about Cliff growing up homeless, by a single mother, having a criminal record, being a delinquent in school, and having multiple incarcerations.
The trauma is intergenerational, and the community is broken. I thought I had understood the term "systemic harm" before, but that was only with my head. I am now beginning to also understand it with my heart. Systemic harm has deeply affected Indigenous people in Canada, and it is profoundly heartbreaking to see the continuing brokenness of these families today.
Winnipeg is home to the largest Indigenous community in Canada. The amount of hopelessness feels overwhelming. Many in this community live very isolated lives, so being together for church is vital – for maintaining relationships, staying connected to other people of faith, and supporting and praying for each other. Many are related through extended family connections or common home reserves in the North. Gathering together makes life less lonely in the city.
Rev. Margaret Mullin was called to this ministry in 1999. She is both Indigenous and European and has a heart for reconciliation between Indigenous people and the Church. This worshiping community began with four older people meeting on Sundays to worship together with Margaret in 2000. From there it developed quickly as a program of Winnipeg Inner City Missions. The church was one of four foci, also including community outreach, a first steps to employment project, and a children and youth program.
In 2014 when the congregation was officially established, they needed a name. Margaret says the community decided on "Place of Hope" because church was "a place they felt comfortable in, where they felt they belonged, and where they started growing together."
Today Place of Hope Indigenous Presbyterian Church has about 90 adults and 60 children. During my visit, I learned that everyone in these families – from child to elderly – is intimately acquainted with death and loss. Margaret and social worker Susan Currie, who joined the congregation in 2002, showed me the congregation's Memorial Blanket. On it are written all the names of congregants or family members who have passed away since Place of Hope began.
I heard story after story of lives lost. What was perhaps most heartbreaking was hearing so many stories of those who had consciously broken the pattern, somehow moved out of the poverty due to intergenerational trauma, and acquired the necessary education to move out of the "hood" – only to then succumb to a heart attack, or a freak car accident, a house fire, or a brain tumor. This abruptly ended their lives and retraumatized the community. Just when things seemed to be turning a corner and hope was emerging, these kinds of tragedies would throw the community back into despair.
I am grateful to have met Margaret and Susan through my Knox College "Practicum in Mission Partnership" course, part of my Master of Divinity studies. During those classes, Margaret said, "We are interested in getting the world to understand what Indigenous people live with here in Canada." The Holy Spirit nudged me to respond to that – to learn and to be a witness to it by going to spend a week with the community in Winnipeg.
When I arrived, I met congregants at a Sunday afternoon service. There were large families present, each seated at a table. In the center of each table was a medicine wheel painted yellow, red, black, and white, representing all four nations of people on the earth, and many other things.
Margaret has laboured and continues to work to redeem the Indigenous spiritual and cultural practices. Many in the congregation grew up being told – and then believing – that their heritage was evil. But Margaret tries to help them see the value and deep Christian faith connection with those practices. She hopes to help them honour all parts of themselves – identity, culture, ceremonies, and language – as God created them, and to help them to heal.
Margaret and Susan believe that true help, in the name of Jesus, comes not from a handout approach (simply helping to meet basic needs like food and clothing) but a hand up approach. This approach also assists with those basic needs, but it concentrates on the bigger picture, including affordable supportive housing and basic education – leading to work and independence from the system.
My visit with the Place of Hope concluded with another Sunday service. The group honoured Susan with a ceremony and quilt representing her 20 years of service. It took many years for Susan, a social worker, to build this level of trust with the community. People distrust a system like Social Services that has hurt them repeatedly. They are, understandably, unwilling to relive the deep traumas – like child apprehension – that play a strong role in this broken community.
Margaret said that even having lived and worked here for decades, she also didn't often have people open up with her about their Residential School experiences – until the news of the first 215 children's bodies found at a residential school became public. Somehow that being named as a tragedy allowed people to begin to share about their own experiences and the many losses they've faced.
As I saw, the current reality of Indigenous life is shocking and overwhelming. But in the midst of the brokenness, there are a few glimmers of hope. Kids are staying in school, teenagers are graduating, and six adults including Jackie are in academic upgrading so that they can achieve their high school equivalency. Most people have very little, yet they don't hesitate to share what they have. They also pitch in and foster or adopt children in need.
Margaret says that due to the nature of the intergenerational trauma, it will likely take three generations to see a significant impact from her work. It is difficult to break patterns and start new ones. But in time, as more children gain more education, they can begin to break the cycles of poverty and trauma. She has faith that this third generation will begin to find new ways.
Antonio Siracusa is a Knox 2021 Master of Pastoral Studies graduate and current Master of Divinity student.
This article appears in Vocations magazine, Summer 2022. Read this article in the magazine online or download the PDF. To subscribe, click here.