Cultivating awe: the power of grateful attentiveness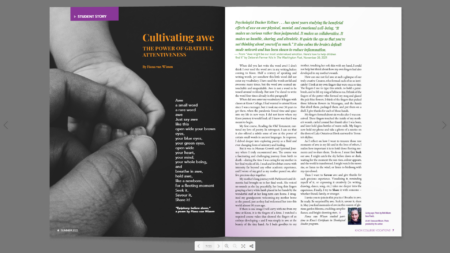 This article appears in Vocations magazine (pictured at right), Summer 2022. Read this article in the magazine online or download the PDF. To subscribe, click here.
By Fiona van Wissen
Psychologist Dacher Keltner . . . has spent years studying the beneficial effects of awe on our physical, mental, and emotional well-being. "It makes us curious rather than judgmental. It makes us collaborative. It makes us humble, sharing, and altruistic. It quiets the ego so that you're not thinking about yourself as much." It also calms the brain's default mode network and has been shown to reduce inflammation.
— From "Awe might be our most undervalued emotion. Here's how to help children
find it" by Deborah Farmer Kris in The Washington Post, November 30, 2021
When did you last write the word awe? I don't think I ever used the word awe in my writing before coming to Knox. Half a century of speaking and writing words, yet somehow this little word did not enter my vocabulary. I have used the words awful and awesome many times, but the word awe seemed untouchable and unspeakable. Awe is not a word to be tossed around recklessly. But now I've dared to write the word four times already in this paragraph!
When did awe enter my vocabulary? It began with classes at Knox College. I had wanted to attend Knox since I was a teenager, but it took me over 30 years to get there, when the pandemic forced time and space into my life in new ways. I did not know where my Knox journey it would lead; all I knew was that I was meant to begin.
My first course, Reading the Old Testament, nurtured my love of poetry. In retrospect, I can see that it also offered a subtle sense of awe at the power of certain small words in ancient languages. In response, I delved deeper into exploring poetry as a fluid and ever-changing form of ministry and healing.
But it was in Human Growth and Spiritual Journey where I truly encountered awe. The course was a fascinating and challenging journey from birth to death – during the time I was caring for my mother in her final weeks of life. I read and lived that course with intensity far beyond any other academic experience, and I wrote of my grief as my mother passed on, after five precious days together.
My mother's long journey with Parkinson's and dementia had brought us to her final week. She voiced no sounds as she lay peacefully, her long thin fingers grasping a furry white lamb placed in her hands by the wonderful staff at her long-term care home. I imagined my grandparents welcoming my mother home as she passed, just as they had welcomed her into this world almost 90 years ago.
If there is one image I will carry with me from my time at Knox, it is the fingers of a fetus. I watched a required course video that showed the fingers of an embryo developing – and I was simply in awe at the beauty of the tiny hand. As I bade goodbye to my mother, touching her soft skin with my hand, I could not help but think about how my own fingers had also developed in my mother's womb.
How can one not feel awe at such a glimpse of our truly creative Creator, who formed each of us so intricately? I look at my own fingers that were once so tiny. The fingers I use to type this article, to hold a paintbrush, and to lift my mug of hibiscus tea. I think of the fingers of the potter who formed my mug and glazed the pale blue flowers. I think of the fingers that picked those hibiscus flowers in Nicaragua, and the hands that dried them, packaged them, and put them on a shelf. I give thanks for each of those hands.
My fingers formed about six weeks after I was conceived. These fingers touched the inside of my mother's womb, curled around her thumb after I was born, and later held glass bottles of warm milk. My fingers now hold my phone and take a photo of a sunrise on the shore of Lake Ontario as I look eastward to Toronto's skyline.
As I reflect on how I want to treasure those rare moments of awe in my life and in the lives of others, I realize how important it is to hold those fleeting moments and to share them. To do so, I must first Seek out awe. I might catch the sky before dawn or dusk, waiting for the moment the sun rises, colour appears, and the world is transformed. I might watch the moon rise, or listen to the wind, or listen to birdsong with my eyes closed.
Then I want to Savour awe and give thanks for each precious experience. Visualizing it, reminding myself of it, or expressing it creatively (in writing, drawing, dance, song, etc.) takes me deeper into the experience. Finally, I try to Share it with someone – whether friend, family, or stranger.
I invite you to join in this practice! Breathe in awe. Be ready. Be surprised by awe. Seek it, savour it, share it. May you find moments of awe in this season of glorious garden blooms, crackling campfire flames, and bright shooting stars.
Fiona van Wissen studied part-time in Knox's Certificate in Theological Studies program.
This article appears in Vocations magazine, Summer 2022. Read this article in the magazine online or download the PDF. To subscribe, click here.
"Epiphany before dawn,"
a poem by Fiona van Wissen
Awe
a small word
a rare word
awe
Just say awe
like this
open wide your brown eyes,
your blue eyes,
your green eyes,
open wide
your heart,
your mind,
your whole being,
and
breathe in awe,
hold awe,
like a newborn,
for a fleeting moment
Seek it,
Savour it,
Share it!