Willingness to 'go deep': sacred moments in spiritual care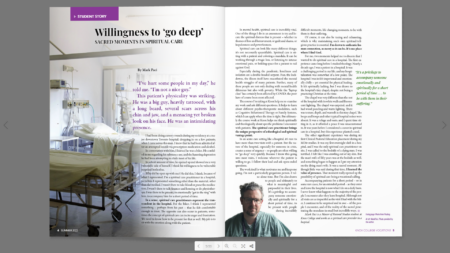 This article appears in Vocations magazine (pictured at right), Summer 2022. Read this article in the magazine online or download the PDF. To subscribe, click here.
By Mark Paci
"I've hurt some people in my day," he told me. "I'm not a nice guy."
This patient's physicality was striking. He was a big guy, heavily tattooed, with a long beard, several scars across his chin and jaw, and a menacing yet broken look on his face. He was an intimidating presence.
I had been doing cursory rounds during my residency at a major downtown Toronto hospital, dropping in on a few patients, when I came across this man. I knew that he had been admitted after an attempted suicide via prescription medication and alcohol.
In conversation with him, I learned he was a biker. He confided in me regarding his substance use, and the haunting depression he had been attempting to elude most of his life.
In a short amount of time, he opened up and showed me a very vulnerable side of himself. I think his willingness to be vulnerable surprised both of us.
Why did he open up with me? He did this, I think, because of what I represented. I'm a spiritual care practitioner in a hospital, so to him I represented something other than the material, other than the medical. I wasn't there to take blood or prescribe medication. I wasn't there to talk finances and housing or do physiotherapy. I was there to be present, to emotionally "get in the ring" with him, to accompany him for a short period of time.
In a sense, spiritual care practitioners represent the transcendent in the hospital. For the biker, I think I represented something – perhaps from his past – that he felt comfortable enough to trust. The opposite can also occur in patients; sometimes the concept of spiritual care can incite anger and frustration. We need to know how to be present for that as well. My job is to sit with the emotion along with the patient.
In mental health, spiritual care is incredibly vital. One of the things I do in an assessment is try and locate the spiritual distress that is present – whether in themes of loss and bereavement, or guilt and shame, or hopelessness and powerlessness.
Spiritual care can look like many different things; it's not necessarily quantifiable. Spiritual care is sitting with a patient and coloring a mandala. It can be working through a tragic loss, or listening to intense emotional pain, or holding space for a patient to rail against God.
Especially during the pandemic, loneliness and isolation are a double-headed serpent. Fear, the lockdowns, the illness itself have exacerbated the mental health struggles of many patients. Further, many of these people are not only dealing with mental health dilemmas but also with poverty. While the "laptop class" has certainly been affected by COVID, the poor have of course been most affected.
The courses I'm taking at Knox help me re-examine my work and ask different questions. It helps to learn about different psycho-therapeutic modalities, such as Cognitive Behavioural Therapy or Family Systems, which I can apply when the time is right. But ultimately the course work at Knox helps me think spiritually and theologically about specific problems I encounter with patients. The spiritual care practitioner brings the unique perspective of a theological and spiritual vantage point.
In an acute care setting like a hospital, it's rare to have more than two visits with a patient. But the nature of the hospital, especially for someone in crisis, creates a sense of urgency – so people are often willing to "go deep" very quickly. Because I know this going into most visits, I welcome wherever the patient is willing to go. I follow their lead and ask open-ended questions.
The work itself is what motivates me and keeps me going. I'm not a particularly gregarious person. I value alone time. But I'm also drawn to people and ultimately to what is meaningful and purposeful in their lives. It's a privilege to accompany someone emotionally and spiritually for a short period of time, to be present with people during incredibly difficult moments, life-changing moments, to be with them in their suffering.
Of course, it can also be taxing and exhausting, which is why maintaining one's own spiritual/religious practice is essential. I'm drawn to authentic human connection, as messy as it can be. It's one place where I find God.
For me, two moments helped me to discern that I wanted to do spiritual care in a hospital. The first experience came long before I studied theology. Nearly a decade ago, I was a patient in a hospital. It was a challenging period in my life, and my hospitalization was somewhat of a low point. The hospital I was in felt impersonal and emotionally chilly – yet essential for physical healing. It felt spiritually lacking, but I was drawn to the hospital's tiny chapel, despite not being a practicing Christian at the time.
The chapel was very different than the rest of the hospital with its white walls and fluorescent lighting. The chapel was carpeted, and it had wood paneling and warm lighting. There was texture, depth, and warmth in this tiny chapel. The beeps and boops and other typical hospital noises were absent. It was a refuge and oasis, and I spent time sitting in it, as it afforded a peace I was unaccustomed to. It was years before I considered a career in spiritual care in a hospital, but this experience planted a seed.
The other significant experience was during my first Clinical Pastoral Education placement during my MDiv studies. It was my first overnight shift in a hospital, and I was the only spiritual care practitioner on site. I was called to the bedside of a dying man. I was terrified. I felt like I was crawling out of my skin. But the man's wife of fifty years was at the bedside as well, and something began to happen as I put my attention on the dying man's wife. It was a sacred moment. Although little was said during that time, I learned the value of presence. That moment really opened up the possibility of spiritual care being a vocational calling.
Accompanying patients for a short period – or in some rare cases, for an extended period – as they enter and leave the hospital is now what I do on a daily basis. I never know what happens to the majority of the people I encounter after they leave hospital. Although not all visits are as impactful as the visit I had with the biker, I continue to be surprised and in awe – of the people I encounter, and of the reality of the sacred penetrating the mundane in small but incredible ways.
Mark Paci is a Master of Pastoral Studies student at Knox College and works as a spiritual care provider in a hospital.
This article appears in Vocations magazine, Summer 2022. Read this article in the magazine online or download the PDF. To subscribe, click here.