Ministering to ministers: serving the church through clergy care
This article appears in Vocations magazine (pictured at right), Autumn 2021. Read this article in the magazine online or download the PDF. To subscribe, click here.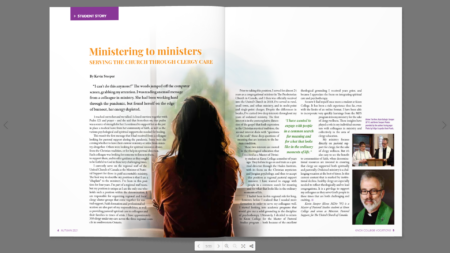 By Kevin Steeper
"I can't do this anymore!" The words jumped off the computer screen, grabbing my attention. I was reading an email message from a colleague in ministry. She had been working hard through the pandemic, but found herself on the edge of burnout, her energy depleted.
I reached out to her and we talked. I closed our time together with Psalm 121 and prayer – and she said that from then on, that psalm was a source of strength for her. I continued to support her as she put in place a medical leave from her community of faith, as well as the various psychological and spiritual supports she needed for healing.
This wasn't the first message that I had received from a colleague looking for pastoral support during the pandemic. Some were discerning whether to leave their current ministry or retire from ministry altogether. Others were looking for spiritual resources drawn from the Christian tradition, or for help in spiritual direction. Each colleague was looking for someone to listen to them, to support them, and to offer guidance as they sought to be faithful to God in these very challenging times.
I currently serve on the regional staff of the United Church of Canada as the Minister of Pastoral Support for those in paid accountable ministry. The best way to describe my position is that I am a "chaplain" to the ministers. I've been in this position for four years. I'm part of a regional staff team, but my position is unique as I am the only one who holds such a position within the denomination. I am responsible for organizing regional and local clergy cluster groups that come together for mutual support. Faith formation and professional education are also part of my responsibilities, as well as providing pastoral/spiritual care to colleagues and their families in times of crisis. I have approximately 350 clergy under my care across the three regional councils in southwestern Ontario.
Prior to taking this position, I served for almost 25 years as a congregational minister in The Presbyterian Church in Canada, and I then was officially received into the United Church in 2018. I've served in rural, small town, and urban ministry, and in multi-point and single-point charges. Despite the differences in locales, I've carried two deep interests throughout my years of ordained ministry. The first interest is in the contemplative dimension of the gospel that finds expression in the Christian mystical tradition; the second interest deals with "questions of the soul," those deep questions of meaning that are intrinsic to the human condition.
These two interests are rooted in the theological education that I received as a Master of Divinity student at Knox College a number of years ago. They led me to go on and train as a spiritual director through the Haden Institute, with its focus on the Christian mysticism and Jungian psychology, and then to accept this position as regional pastoral support minister. I have wanted to engage with people in a common search for meaning and for what that looks like in the ordinary moments of life.
I hadn't been in this regional role for long, however, before I realized that I needed more formation in order to serve my colleagues well. I started looking into academic programs that would give me a solid grounding in the discipline of psychotherapy. Ultimately, I decided to return to Knox College for the Master of Pastoral Studies program – both because of the excellent theological grounding I received years prior, and because I appreciate the focus on integrating spiritual care and psychotherapy.
So now I find myself once more a student at Knox College. It has been a rich experience thus far, even with the limits of an online format. I have been able to incorporate very quickly learnings from the MPS program into my ministry for the sake of clergy wellness. These insights have played a role in my individual encounters with colleagues in ministry and collectively in the area of clergy education.
My ministry focuses directly on pastoral support for clergy, for the sake of clergy wellness. But it's also easy to see the benefit to communities of faith, when denominational resources are invested in ensuring that clergy are supported both spiritually and pastorally. Ordained ministry is a challenging vocation at the best of times. In this current context that is marked by institutional decline, healthy clergy are especially needed to reflect theologically and to lead congregations. It is a privilege to support my colleagues as they serve God's people in these times that are both challenging and exciting.
Kevin Steeper (Knox MDiv '95) is a Master of Pastoral Studies student at Knox College and serves as Minister, Pastoral Support, for The United Church of Canada.
This article appears in Vocations magazine, Autumn 2021. Read this article in the magazine online or download the PDF. To subscribe, click here.