Spiritual care in a struggling world: Holding onto hope
This article appears in Vocations magazine (pictured at right), Summer 2021. Read this article in the magazine online or download the PDF. To subscribe, click here.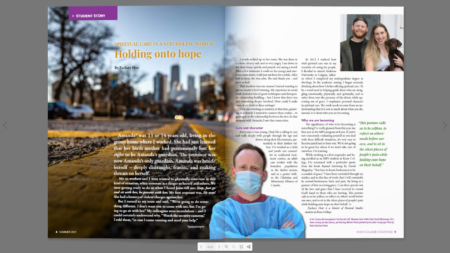 By Zachary Hair
Amanda* was 13 or 14 years old, living in the group home where I worked. She had just learned that her birth mother had permanently lost her right to be Amanda's guardian. The province was now Amanda's only guardian. Amanda was beside herself – deeply distraught, frantic, and making threats on herself.
My co-workers and I were trained to physically intervene in this kind of situation, when someone is a danger to herself and others. We were getting ready to do so when I heard Jesus tell me: Stop. Just go and sit with her, be present with her. My first response was, No way! She had a history of violent charges against her.
But I turned to my team and said, "We're going to do something different. I don't want you to come with me, but I'm going to go sit with her." My colleagues were incredulous – and I could certainly understand why. "Watch the security cameras," I told them, "in case I come running and need your help."
I slowly walked up to her room. She was there in a corner, so very sad, and so very angry. I sat down in the door frame quietly and prayed, not saying a word. After a few moments, I could see her energy and emotions come down. I still just sat there for a while. After half an hour, she was calm. She said thank you – and went to bed.
That incident was one reason I started wanting to pursue master's-level training. My experience in social work included lots of good techniques and therapeutic relationship building – but I knew that there was also something deeper involved. How could I make sense of my faith in these settings?
I was also working in ministry at that time, pastoring in a church. I wanted to connect these realms – to go deeper in the relationship between the two. In that moment with Amanda, I saw that connection.
Care and character
Every since I was young, I had felt a calling to care and walk deeply with people through the ups and downs along their life journeys, particularly in their darkest valleys. I've worked as a child and youth care counsellor in residential treatment centres, an adult care worker with the homeless population in the shelter system, and as a pastor within the Christian and Missionary Alliance of Canada.
In 2012 I realized how vital spiritual care was in my vocation of caring for people. I decided to attend Ambrose University in Calgary, Alberta, where I completed my undergraduate degree in theology. In the academic setting, I began seriously thinking about how I define offering spiritual care: To be a vessel used in helping guide those who are struggling emotionally, physically, and spiritually, and to usher them into the presence of the divine while operating out of grace. I emphasize personal character in spiritual care. The work needs to come from an understanding that it is not as much about what you do; instead, it is about who you are becoming.
Who we are becoming
The significance of who we're becoming is something I've really gleaned from this year, my first year in the MPS program at Knox. If you're not consciously evaluating yourself as you deal with these difficult situations, it's very easy to become jaded and to burn out. We're not going to be good for others if we don't take care of ourselves. I'm learning.
While working as a first responder and being enrolled as an MPS student at Knox College, I've resonated with a particular quote from the book Beyond Surviving by David Maginley: "You have to know brokenness to be a conduit of grace." I have been reminded through my studies, and in this line of work, that I will constantly be around brokenness, hurt, and pain. By living in a posture of first receiving grace, I can then operate out of the love and grace that I have received to extend God's hand to those who are hurting. This posture calls us to be selfless, to reflect on others' needs before our own, and to sit in the silent places of people's pain while holding onto hope on their behalf.
Zachary Hair is a Master of Pastoral Studies student at Knox College.
This article appears in Vocations magazine, Summer 2021. Read this article in the magazine online or download the PDF. To subscribe, click here.