What I did — and didn't — learn in seminary: The gifts of COVID times
This article appears in Vocations magazine (pictured at right), Spring 2021. Read this article in the magazine online or download the PDF. To subscribe, click here.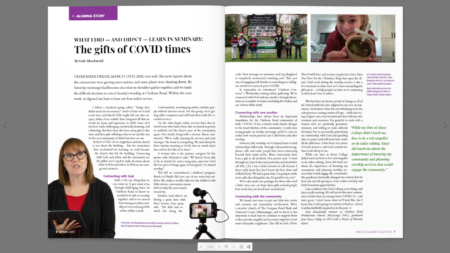 By Gale Macdonald
I remember Friday, March 13th, 2020, very well. The news reports about the coronavirus were getting more serious, and some places were shutting down. By Saturday morning it had become clear that we shouldn't gather together, and we made the difficult decision to cancel Sunday's worship at Clarkson Road. Within the next week, we figured out how to have our first online service.
I follow a Facebook group called, "Things they didn't teach me in seminary"; much of what we've had to do since mid-March 2020 might fall into this category. Many of us couldn't have imagined all that we would do, learn, and experience in 2020. Some of it has been really challenging, emotionally draining, and exhausting. But there have also been many gifts in this time, and these gifts will shape who we are and the way we live as a community of faith from here on out.
Before COVID-19, we might have said the church is not about the building – but the restrictions have accelerated our learning; we truly became the church that left the building. Connecting with God, each other, and the community are the pillars we've used to make decisions about what we'll do and where we'll focus our energy and resources.
Connecting with God
Faith is the one thing that we can count on. It gets many of us through challenging times. At Clarkson Road, we knew we needed to be able to worship together, and so we moved from having no online worship services to being 100% online within a week.
Unfortunately, worshipping online excludes people without internet access. For this group, we're getting tablet computers and will load them with the recorded services.
On the other hand, online services have also allowed some who hadn't been able to attend in person to suddenly feel like they're part of the community again. One family living with a chronic illness commented, "We're really enjoying the services and your messages. The music is so inspiring. We can't always be there Sunday morning at 10:30, but we watch them later and we feel like we're there."
A woman who is the primary caregiver for her spouse with Alzheimer's said, "We haven't been able to be at church for such a long time, and now I feel like I'm part of things again. It feels good. I've missed worship."
This fall we reintroduced a children's program, thanks to Natalie McLean, one of our university students. She makes a weekly video for the children with Bible stories, conversation about faith in daily life, and a hands-on activity.
Families (and others) are having a great time with these lessons. One mom said, "The kids had so much fun doing the crafts. Your messages are awesome, and [my daughter] is completely mesmerized watching you." This new way of engaging with families is something we will figure out how to carry on post-COVID.
In September we introduced "Clarkson Connects," a Wednesday evening online gathering. We've connected with God and one another through discussions on a number of topics, including the Psalms and our Advent Bible study.
Connecting with one another
Relationships have always been an important foundation for the Clarkson Road community of faith. COVID-19 has certainly made drastic changes to the usual rhythms of the community; I really miss seeing people on Sunday mornings, and I've come to realize how much pastoral care I did before and after worship.
However, like worship, we've learned how to tend relationships differently. Through videoconferencing, phone calls, and cards, people have been connecting beyond their usual circles. These connections have been a gift to all involved. One person said, "I went through my church directory yesterday and decided to call Mrs. [X]. I was a little nervous to call, because I don't really know her, but I know she lives alone and is likely lonely. We had a great chat. I'm going to make more calls after doing this one. It's good for me, too."
We've also made care packages for those who need a little extra care; we hope these gifts remind people how much they are loved and remembered.
Connecting with the community
We found new ways to put our faith into action and continue our community involvement. We're a member church of The Compass Food Bank and Outreach Centre (Mississauga), and we knew it was important to find ways to continue to support them as they provide tangible and necessary supports to our most vulnerable neighbours. This fall we had a Drive Thru Food Drive, and we just completed a Drive Thru Toy Drive for the Christmas Shop they open for clients. Each week during the worship service, I take a few moments to share how we've been stewarding the gifts given – to help people see how we're continuing to show Jesus' love to others.
This has been an intense period of change as all of the church staff roles have adapted to our new circumstances. Sometimes it has felt overwhelming to be the calm presence casting a vision of hope – while also trying to figure out a way forward and deal with my own reactions and emotions. I'm grateful to work with a Session who are spiritually grounded, visionary, and willing to make difficult decisions. For me personally, prioritizing my relationship with God and spending time in prayer and reflection have made all the difference. I have been very aware of God's presence, and God reminds me that it isn't all up to me.
While my time at Knox College didn't teach me how to be a televangelist or do video editing, Knox did teach me about the importance of knowing my community and planning worship services that would engage the community. The pandemic drastically changed our context, but it's been fun and life-giving to create online worship and faith formation opportunities.
I am confident that God is doing a new thing, and this is really exciting. We will not be the same community of faith when we emerge from COVID-19 – and that's great. I don't know what we'll look like, but I know that God is going to continue to lead us – just as God has faithfully inspired us in the past.
Gale Macdonald, minister at Clarkson Road Presbyterian Church, Mississauga (Ont.), graduated from Knox College in 2012 with a Master of Divinity degree.
This article appears in Vocations magazine, Spring 2021. Read this article in the magazine online or download the PDF. To subscribe, click here.