The work of Christian Education: Guiding us to life change
This article appears in Vocations magazine (pictured at right), Spring 2021. Read this article in the magazine online or download the PDF. To subscribe, click here.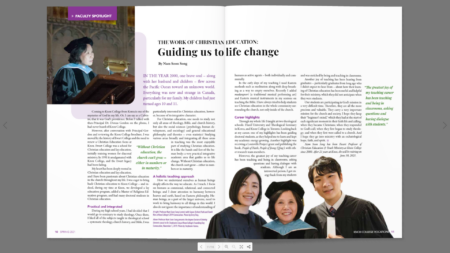 By Nam Soon Song
In the year 2000, one brave soul – along with her husband and children – flew across the Pacific Ocean toward an unknown world. Everything was new and strange in Canada, particularly for my family. My children had just turned ages 10 and 11. Coming to Knox College from Korea is one of the mysteries of God in my life. Or, I can say as a Calvinist, that it was God's providence. Before I talked with then-Principal Dr. Dorcas Gordon on the phone, I had never heard of Knox College.
However, after conversation with Principal Gordon and reviewing the Knox College brochure, I was moved by the history of Ewart College and the need to renew a Christian Education focus at Knox. Ewart College was a school for Christian education and lay education, initially training women for diaconal ministry. In 1991 it amalgamated with Knox College, and the Ewart legacy had been fading.
My heart has been deeply rooted in Christian education and lay education, and I have been passionate about Christian education in the church throughout my life. I was eager to bring back Christian education to Knox College – and indeed, during my time at Knox, we developed a lay education program, added a Master of Religious Education program, and had many doctoral students in Christian education.
Practical and integrated
During my high school years, I had decided that I would go to seminary to study theology. Once there, I liked all of the subjects taught in theological school – systematic theology, church history, and Bible. I was particularly interested in Christian education, however, because of its integrative character.
For Christian education, one needs to study not only all areas of theology, Bible, and church history, but also the social sciences (psychology, human development, and sociology) and general educational philosophy and theories – even statistics! Studying various areas broadly and integrating all these areas in teaching was the most enjoyable part of studying Christian education. It is like the hands and feet of the human body: a very practical integrative academic area that guides us to life change. Without Christian education, the church can't grow – either in numbers or in maturity.
A holistic teaching approach
How we understand ourselves as human beings deeply affects the way we educate. As I teach, I focus on humans as communal, relational, and connected beings; and I draw attention to harmony between heaven and earth, based on Eastern philosophy. Human beings, as a part of the larger universe, need to work to bring harmony to all things in this world. I also do not ignore the importance of understanding of humans as active agents – both individually and communally.
In the early days of my teaching I used Eastern methods such as meditation along with deep breathing as a way to empty ourselves. Recently I added madangnori (a traditional musical performing art) and Eastern musical instruments in my sessions on teaching the Bible. I have always tried to help students see Christian education in the whole community surrounding the church, not only inside of the church.
Career highlights
Through my whole life I taught at two theological schools: Hanil University and Theological Seminary in Korea, and Knox College in Toronto. Looking back at my career, one of my highlights has been guiding doctoral students, as they helped me to learn and kept my academic energy growing. Another highlight was receiving a Louisville Project grant and publishing the book, People of Faith, People of Jeong (Qing), with other research team members.
However, the greatest joy of my teaching career has been teaching and being in classrooms, asking questions and having dialogue with students. Although I am an introverted person, I got energy back from my students and was enriched by being and teaching in classrooms.
Another joy of teaching has been hearing from graduates – particularly graduates from long ago who I didn't expect to hear from – about how their learning of Christian education has been useful and helpful for their ministry, which they did not anticipate when they were students.
Our students are participating in God's mission in a very difficult time. Therefore, they are all the more precious and valuable. They carry a very important mission for the church and society. I hope they keep their "beginner's mind," which they had at the start of each significant moment in their faith life and calling: when they became Christians; when they responded to God's call; when they first began to study theology; and when they first were called to a church. And I hope they go into ministry with an eschatological hope, faith, and spirit.
Nam Soon Song has been Ewart Professor of Christian Education & Youth Ministry at Knox College since 2000. After 21 years at Knox, she will be retiring on June 30, 2021.
This article appears in Vocations magazine, Spring 2021. Read this article in the magazine online or download the PDF. To subscribe, click here.