Learning through field placements: Classroom, church, and hospital
This article appears in Vocations magazine (pictured at right), Summer 2020. Read this article in the magazine online or download the PDF. To subscribe, click here.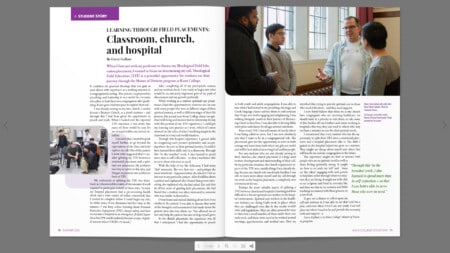 By Gerry Gallant
When I first met with my professor to discuss my Theological Field Education placement, I wanted to focus on determining my call. Theological Field Education (TFE) is a powerful opportunity for students on their journey through the Master of Divinity program at Knox College. It combines the practical theology that you gain in your classes with experience as a working minister in a congregational setting. This practice in preparation, preaching, and leadership is very useful for everyone who plans to lead their own congregation after graduating. It also gives students space to explore their call.
I was already serving in my own church, London Korean Christian Church, as a youth minister – and through this I had been given the opportunity to preach and teach. When I looked over the expected TFE outcomes, I was aware that many of them would be easy for me to reach within my current situation.
I decided that I wanted to push myself further, to go beyond the expectations of the class, and truly explore my call. One of the pastors I work with suggested that I consider splitting my TFE between a ministerial placement and a spiritual care placement. My professor was very receptive to this idea, and I began my journey into a different form of TFE.
My excitement at splitting the TFE was short-lived, as I discovered the reality of the amount of work required to participate in both of these roles. To start, my hospital placement had a pre-screening health check and a wide variety of online coursework that I needed to complete before I could begin my role. So while many of my classmates had free time in the summer, I was busy online learning about Personal Protective Equipment (PPE), sharps safety, and how to evacuate a hospital in an emergency. (I didn't know then that PPE would suddenly become a topic of global interest when COVID-19 struck.)
After completing all of my prerequisite courses and my medical check, I was ready to begin into what would be an extremely important part of my path of discernment and my growth spiritually.
While working as a student spiritual care practitioner, I had the opportunity to converse one-on-one with many people who were at different stages of their spiritual journey, as well as different stages of their life journey. My second-year Knox College classes on spiritual well-being and mission tied in almost day-by-day with this portion of my TFE experience; I could put my learning into practice as I went, which of course showed me the value of what I was being taught in the classroom in a very real world situation.
Through this hospital experience, I gained skills in recognizing each person's spirituality and accepting where they are in their spiritual journey. I couldn't have learned those skills only in a classroom. Through this "in the trenches" work, I also learned to spend more time in self-reflection – so that I was better able to serve those who were in need.
With the help of my Site Educator, I had many "aha" moments. The very first one – and perhaps the most beneficial – happened when she asked if I felt an interest in any particular patient. After I told her about a patient and explained why I found that person interesting, she explained why she had asked. She said that in all her years of guiding field placements, she had found that a student was often interested in someone who was similar to themselves.
I went home and started thinking about how I was similar to the patient. I was able to discern that many of the thoughts and assessments I had made about the patient were also true about me. This allowed me to not only help the patient, but also to help myself grow.
In my church placement, the experience was all that I anticipated. I had the opportunity to preach to both youth and adult congregations. I was able to take what I had learned in my preaching, theology, and Greek language classes and use them to craft sermons that I hope were both engaging and enlightening. I was walking alongside youth in their journey of discovering Christ in their lives. I was also able to develop Bible study plans and classes for all ages around catechism.
Prior to my TFE I was still unsure of exactly where I was being called to serve, but I am now absolutely sure that I want to be in a congregational role. The placements gave me the opportunity to serve in both settings and learn from both where my gifts are useful and will be best utilized in serving God and his people.
For any students who are not already serving in their churches, the church placement is a huge asset in their development and understanding of their call. In my particular situation, the church requirement aspects of the TFE were mainly things I was already doing. Because my church role was already familiar, I was able to learn more about myself and my call through my work in the hospital placement, a completely new environment for me.
Perhaps the most valuable aspect of splitting a TFE between church and hospital is learning just how difficult it is for our spiritual care workers in the hospital environment. Spiritual care workers in the healthcare industry are doing God's work in places where they are challenged every day by the secular world's rules and regulations. They are often pressed for time to visit even a small number of those under their care each week, and those visits need to be worked around meetings, appointments, and medical care. They are stretched thin trying to provide spiritual care to those who need it the most – and they need support.
I now firmly believe that when we in the church have congregants who are receiving healthcare, we should make it a priority to visit them, to take some of this burden off our brothers and sisters working in hospitals; this way, they can tend to others who may not have a minister to care for their spiritual needs.
I recommend that every student who has the opportunity to split their TFE into a ministerial placement and a hospital placement take it. The skills I gained in the hospital helped me grow as a minister. They taught me things about myself and others that will benefit me and my congregation in the future.
The experience taught me how to interact with people who are in spiritual need as well as those feeling spiritually strong. It taught me how to set aside my 'self' and focus on 'the other,' engaging with each person to help him or her through whatever situation they are facing. It taught me to be able to see scripture and God in everyday life, and then use that in my sermons and Bible teachings to connect with those present on a new level.
It gave me a chance to reflect upon my call and embrace it. I was able to see that God has a plan, and even when I feel I am not ready, God will place me where I need to be and provide the necessary tools and support.
Gerry Gallant is in Knox College's Master of Divinity program.
This article appears in Vocations magazine, Summer 2020. Read this article in the magazine online or download the PDF. To subscribe, click here.