From lawyer to pastor: Grace for the journey
This article appears in Vocations magazine (pictured at right), Spring 2020. Read this article in the magazine online or download the PDF. To subscribe, click here.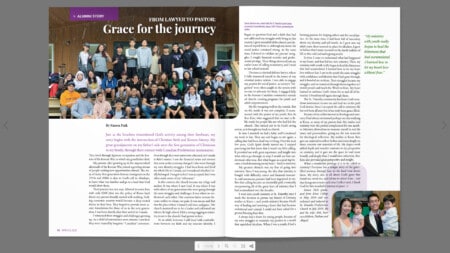 By Simon Park
Just as the Israelites remembered God's activity among their forebears, my story begins with the intersection of Christian faith and Korean history. My great-grandparents on my father's side were the first generation of Christians in my family, through their contact with Canadian Presbyterian missionaries.
They lived through Japanese occupation and the horrors of the Korean War, in which my grandfather died.
My parents, after growing up in the impoverished aftermath of the Korean War, joined a growing stream of people seeking new opportunities abroad. The story of many first-generation Korean immigrants in the 1970s and 1980s is akin to God's call to Abraham, to leave what was familiar and go to a land that God would show them.
Their journey was not easy. Allowed to come here with only $200 (that was the policy of Korea back then), my parents literally started with nothing. Seeking economic security would become a deep-rooted theme in their lives. They hoped to provide more secure foundations for those of us in the next generation; I was born shortly after their arrival in Canada.
I witnessed their struggles and challenges growing up. As a child of convenience store owners, I saw how they were treated by longtime "Canadian" customers. Even though they were university educated, in Canada it didn't matter. I saw the financial strain and stresses that arose as the economy changed. I also went through my own identity struggles. I had been born and lived my whole life in Canada, yet I wondered whether I really belonged. I longed to feel I was accepted, but I was often made aware of my "otherness."
In this context, the church became my refuge and anchor. It was where I met God. It was where I was with others of my generation who were going through the same struggles and challenges. It was where we understood each other. Our emotion-laden retreats became outlets to release our pain. It was messy, and that was the place where I found God's love and grace. The church nurtured me to be a leader and cultivated my talents. In high school, I felt a strong tugging to ministry, to serve the church I had grown to love.
As an adult, however, I still lived with contradictions between my faith and my insecure identity. I began to question God and a faith that had not addressed my struggles with living in this society. I grew resentful of the church and distanced myself from it, although my desire for social justice remained strong. At the same time, I desired to validate my parents' struggles; I sought financial security and professional prestige. These things drowned out my earlier sense of calling to ministry, and I went to law school instead.
I became a criminal defense lawyer, where I fully immersed myself in the issues of our criminal justice system. I was able to engage my passion for social justice, as society's "forgotten" were often caught in the system with no one to advocate for them. I engaged fully in the Korean-Canadian community outside of church, creating programs for youth and adult empowerment.
My life was going well on the outside. But on the inside it was not complete. I reconnected with the pastor of my youth, Rev. In Kee Kim, who suggested that we start a Bible study for people like
me who had left the church. This turned out to be God's saving action, as it brought me back to church.
In time I married, we had a baby, and I continued my work in law. Then my soul began to stir again; a calling that had been dead was reviving. Over the next few years, God's Spirit slowly moved me. I enjoyed practicing law but knew that it wasn't my life's calling. It provided me with great experience and insight into what others go through, in ways I would not have understood otherwise. But what began as a quiet tap became a loud drumming on my heart – back to ministry.
My greatest obstacle was my fear of going into ministry. Since I was young, the idea that ministry is fraught with difficulty, career and financial insecurity, and enormous pressure had been ingrained in me. But that calling became an irresistible pull, eventually overpowering all of the great fears of ministry that I had accumulated over the decades.
I went into youth ministry at St. Timothy once I made the decision to pursue my Master of Divinity studies at Knox – and youth ministry became God's way of healing and restoring a heart that had become embittered and cynical. I could not have asked for a greater blessing than that.
I always had a heart for young people, because of my own struggles to maintain my passion in a world that squelched idealism. When I was a youth, I had a burning passion for helping others and for social justice. At the same time, I had been full of insecurity about my identity and self-worth. As I grew into my adult years, there seemed no place for idealism. I grew to believe that I must succumb to the harsh realities of life in this cold and unforgiving world.
In time I came to understand what had happened to my heart, and that led me into ministry. Then, my ministry with youth really began to heal the bitterness that had accumulated. I learned how to let my heart love without fear. I saw in the youth the same struggles with confidence and identity that I had gone through, and it bonded me to them. Their struggles became my struggles, and we ventured through them together as I would preach and teach the Word to them. My heart learned to embrace God's vision for us and all of humanity. I found myself again through them.
The St. Timothy community has been God's wondrous instrument to save me and lead me to the path God desires. Since I accepted the call to ministry, life has not been all easy, but it has truly been grace-filled.
Because of my earlier interest in theology and seminary, I had always envisioned perhaps one day studying at Knox, as many of my pastors had. My studies and ministry were the perfect complement for one another. Ministry allowed me to immerse myself in real-life issues and personalities, giving me the raw materials for theological reflection. My studies at Knox then gave me material to reflect further and more deeply on those concrete raw materials of life. My degree work added depth and rounder contours to my perspective on ministry, and it gave me the space to read more broadly and deeply than I would have otherwise. Rev. Kim also provided great perspective and insight.
What a wonderful privilege it is to be called to ministry! Everyone has a unique story of the grace-filled journey, through fear, to the land God shows them. My story, also, is all about God's grace that found me, saved me, and led me to where I am – and that brings me to tears each time I reflect on it. I thank God for this wonderful journey of grace.
Simon Park graduated from Knox College in May 2019 and was ordained and inducted at St. Timothy Presbyterian Church in July 2019. He and his wife, Deb, have two children, Nathan and Abigail.
This article appears in Vocations magazine, Spring 2020. Read this article in the magazine online or download the PDF. To subscribe, click here.