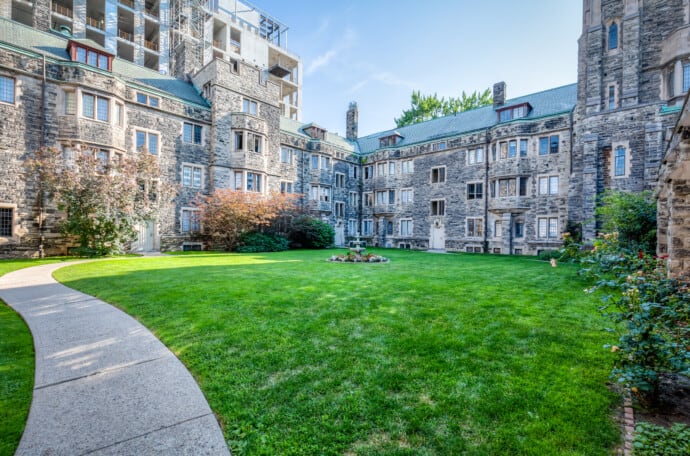 Overview
Knox College is not only home for the theological students of Knox, but also for graduate and undergraduate students of the University of Toronto.
The Knox College Residence is divided into three houses (West, Centre, and East). One hundred and three students live in the Knox College Residence: 52 males and 51 females. Knox is extremely security-conscious, and the residence is locked.
Washrooms are shared. Each house has a different number of students, so the ratio of students per washroom varies from 6 to 11. The floors and washrooms in each house are gender specific, except for East House 3rd floor, where both the floor and washroom are coed.
There is a laundry room, a games/pool room and a television room located in the basement, as well as two common rooms, the largest of which is used for studying, floor meetings and small parties.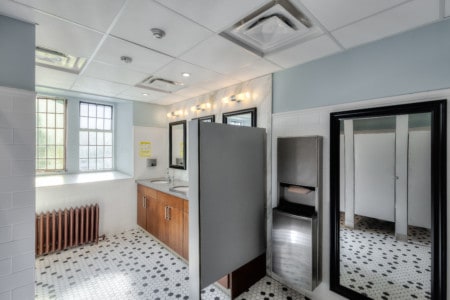 Almost all the rooms in our residence are single occupancy. Some rooms feature a bay window or non-functional fire place. All are furnished with a bed, chest of drawers, desk, and bookcase. Bedding is provided, and the rooms are cleaned once a week. Each room has a closet or an armoire.
Each room is equipped with both a telephone and cable jack. It is the responsibility of the student to activate each service. All rooms have adequate wiring for small appliances only, such as a computer, small refrigerator, and/or electric kettle.
Since students enroll in the College's meal plan, there are no provisions for meal preparation in the residence. A microwave and a refrigerator are located in the 3rd floor common room and the television room. Smoking is not allowed in any part of the residence including residents' rooms, the common rooms, the dining hall, and the hallways.
The College Library has a large Reading Room which is available to residents for studying. For hours and more information, please visit the Caven Library page. In addition, the College's Chapel is available for use by residents, and a Christian worship service is held there every Tuesday for the whole community.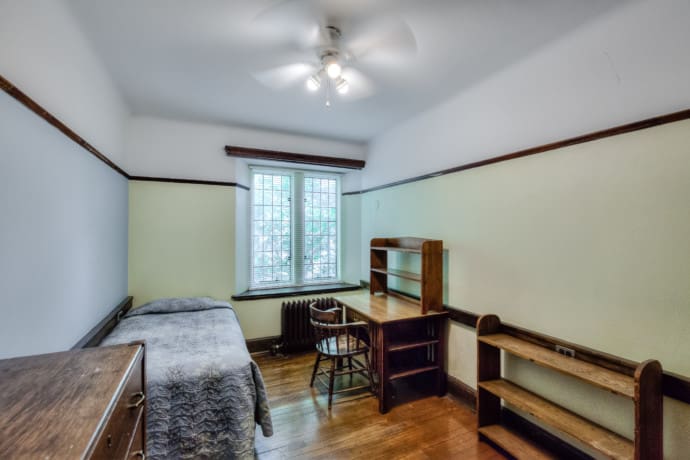 Academic Year Residence
The residence caters primarily to graduate students. To be eligible for residence you must be registered as a full-time student. The number of applicants selected depends on the number of rooms that are vacated at the end of the previous academic term. Knox College theological students are given first preference. The residence contract begins Labour Day weekend and ends in the beginning of May. All residents participate in the college's meal plan.
Download the January 2021 residence application
A. Single Room
$13,265.00
B. Double Occupancy/person
$12,200.00
C. Super Single Room
$14,035.00

Incidental Fees

KCA (Knox College Association)
$132.65
Key Deposit
$50.00
Damage Deposit
$250.00
Meals (Academic Year Compulsory Meal Plan, which is included in costs above) are served at New College (a 5 minute walk from Knox)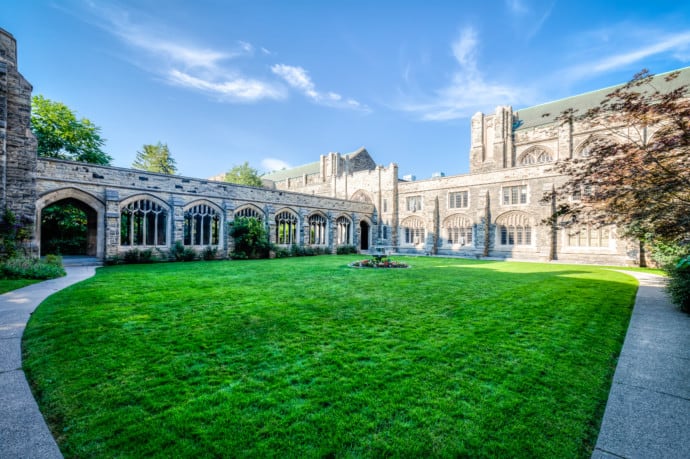 Summer Residence
The residence is open from mid-May to mid-August for summer occupancy. It houses both students and non-students from around the world.
The residence application package for summer 2020 is not available until further notice (due to COVID-19 restrictions). 
| | | | |
| --- | --- | --- | --- |
| | Single Room | Student | Non-student |
| | Daily (Plus 13% Tax) | $45.00 | $55.00 |
| | Weekly (Plus 13% Tax) | $195.00 | $220.00 |
| | Monthly (No Tax) | $600.00 | $665.00 |
| | Double Rooms (if available) | | |
| | Daily (Plus 13% Tax) | $35.00/person | $40.00/person |
| | Weekly (Plus 13% Tax) | $145.00/person | $150.00/person |
| | Monthly (No Tax) | $465.00/person | $470.00/person |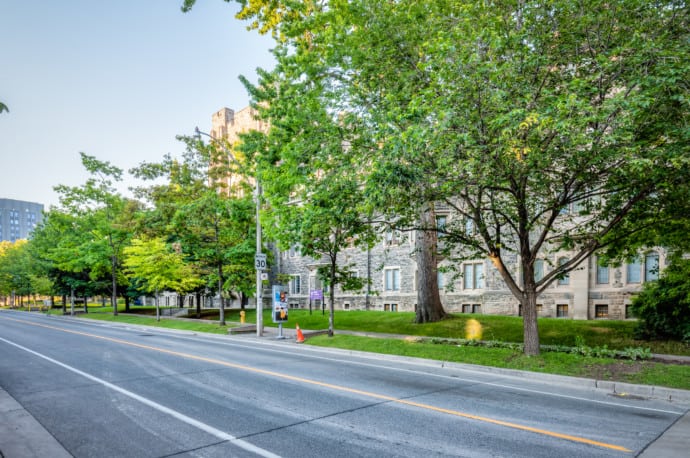 Knox Theological Commuter Students
A limited number of commuter rooms are available for Knox theological students to rent on a nightly basis.
Request information
Rate per night plus incidental fees
A. Single room
$ 20.00
B. Double room
$ 18.00
C. Triple room
$ 15.00
Incidental Fees
KCA (Knox College Association)
$40.00
Key Deposit
$50.00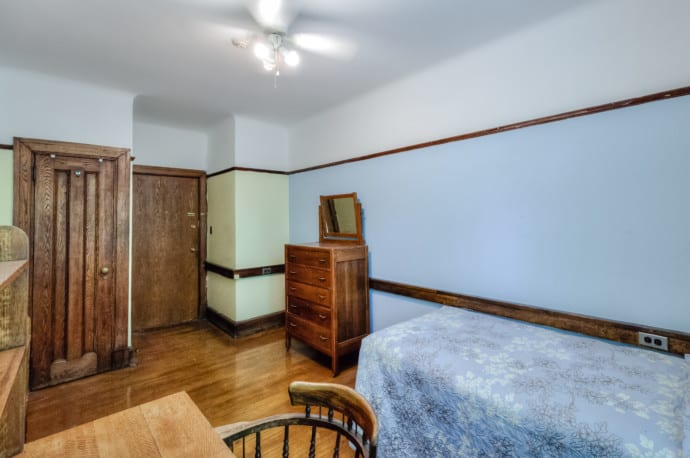 Guest Rooms
During the academic year, there are a limited number of guests rooms available to the public for a short-term stay. These rooms are usually available on the weekends.
Request information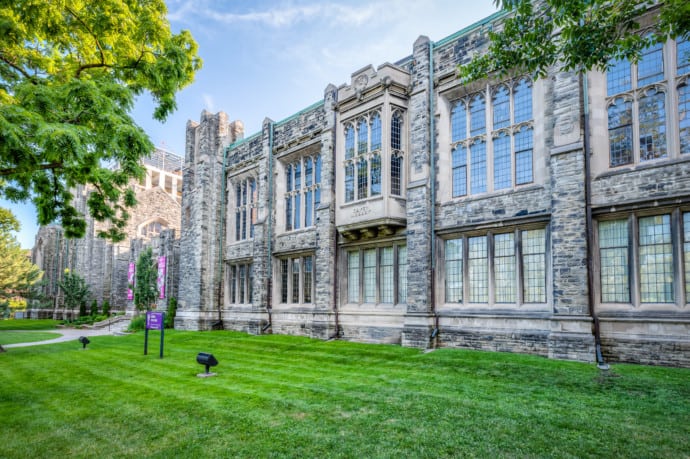 Accessible Housing
In partnership with the University of Toronto, Knox College offers students equal access and opportunity to housing options. To view the accessible housing options on campus, please visit UofT's Housing Services website.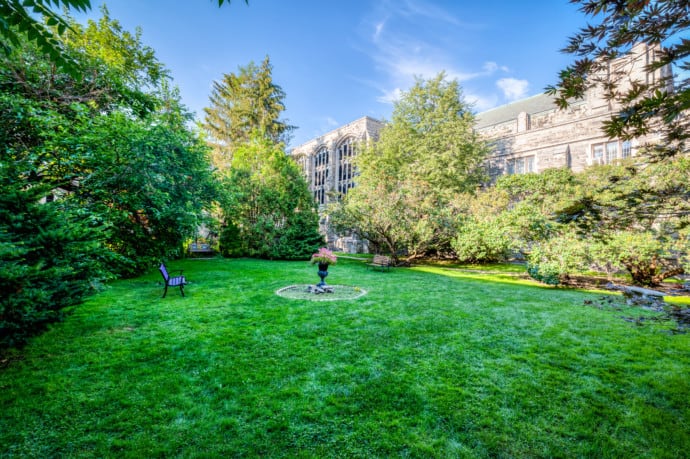 Family Housing
Apartment-style housing options are available through UofT housing, to allow for families to stay together during studies at Knox. Visit the Student Family Housing website for more information.